Elevate Your TV Experience
Sign up, reconnect or pay your Sky Pacific bill for a chance to win one of three 4K HD Android Televisions worth $4,199 each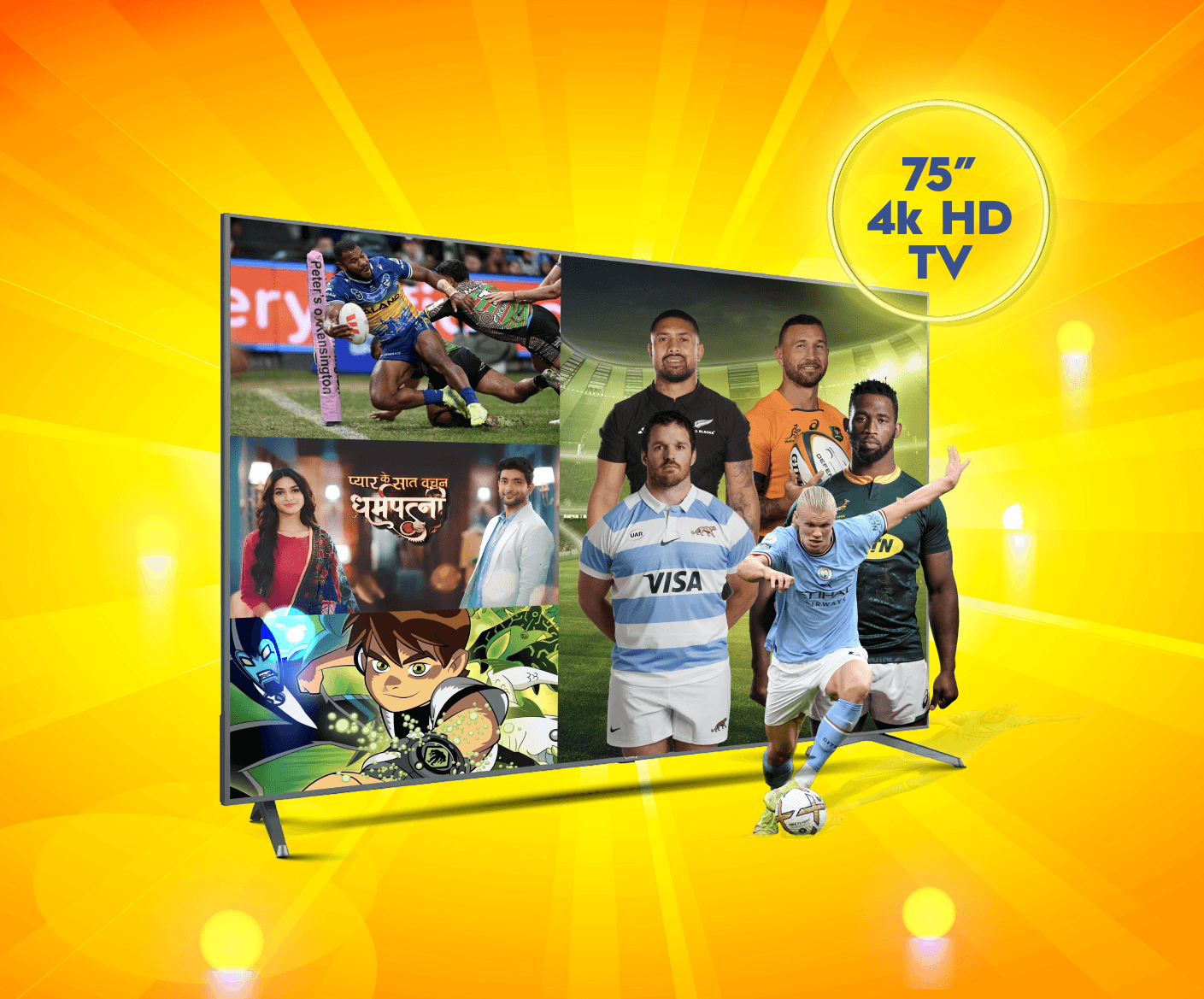 Details
Sky Pacific proudly presents an exciting opportunity for you to level up your entertainment game and immerse yourself in stunning visuals, captivating sound, and endless possibilities. 

How to Participate?
·       Pay Your Bill: Settle your Sky Pacific bill during the promotion period and secure your entry into the draw.
·       Sign Up: New to Sky Pacific? Join us now for a chance to snag one of these premium Android TVs.
·       Reconnect: Former Sky Pacific lover? Rekindle your connection for a shot at reclaiming not only your entertainment but also an exceptional prize.

Prizes and Draw dates are as follows:
| Prizes | Qty |
| --- | --- |
| CHiQ 75 inch Android 4K HD Television (remote with batteries and cords included) | 3 |
Monthly Draw Dates:
| Draw Dates | Qty |
| --- | --- |
| 15th September, 2023 | 1 |
| 16th October, 2023 | 1 |
| 15th November, 2023 | 1 |
1.      How do I participate in this promotion?

You will need to sign up to Sky Pacific, reconnect, or pay your Sky Pacific bill during the promotion period.



2.      When does this Promotion start and end?
The Promotion is valid from 18 August through to 13 November and our final draw will take place on 15 November, 2023.



3.      When is the draw?
There will be one (1) draw every month as below. One lucky customer will walk away with a CHiQ 75-inch Android 4K HD television each month.

4.      How are the prizes drawn?
Winners are selected at random through a secure electronic draw platform in the presence of an officer of the Fiji Police Force (as required from time to time) at Digicel Head Office in Nabua.



5.      How will I be advised if I have won a prize?
You will be advised via a phone call from a member of the Digicel staff.



6.      Who can participate in the promotion?
Any customer signing up, reconnecting or paying Sky Pacific bill during the Promotion Period will go automatically into the draw for a chance to win provided they are in an active state during the draw.



7.      Who cannot participate in the promotion?

·       Sky Pacific Postpaid/Commercial customers

·       Account holder who no longer resides in Fiji

·       Any current director, officer, employee, or agent of Digicel or any of their respective parents, subsidiaries, divisions, or affiliated companies, franchisees or service agencies, independent contractors, or suppliers of services to Digicel;

·       Immediate families of current Digicel employees;

·       Employees and immediate families of employees of any company associated with this Promotion;

·       Inactive Sky customers



   8. What other obligations can I expect?

The prizes will at our discretion be branded at the time of handover to the winner (as applicable). You agree to meet all costs associated with participating in the Promotion and collecting any prize or installation thereof.