PNG AIR TICKETING
Book Online and Pay with CellMoni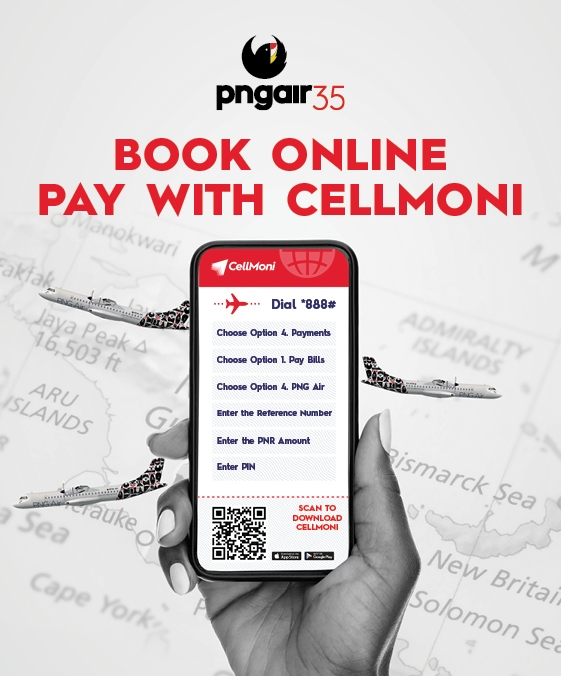 PNG Air available on CellMoni
Please feel free to contact our customer care on 888 for additional information or assistance.
1.How can I pay my PNG Air ticket using CellMoni?

To use CellMoni for your payment, you need to get a booking reference number through one of the methods below:

Visit the PNG Air website at pngair.com.pg to make your booking and choose CellMoni as the payment option or the pay later option.

Call PNG Air customer care on 16111 to make your booking and receive a booking reference number.

Visit a PNG Air office or a travel agency to make your booking and receive a booking reference number.

Now that you have your booking reference number, you can use your CellMoni to make payment.

Remember that the booking reference number is only valid for 24 hours. Make sure to do your payment within 24 hours before the expiration.

2. What are the steps to make payment with CellMoni?

Once your booking is completed and you have your booking reference number, you should ensure that you are an active CellMoni customer with sufficient balance in your wallet and then follow the steps below:

1. Dial *888#

2. Select option 4 – Payments

3. Select option 1 - Pay Bills

4. Select option 4 – PNG AIR

5. Enter CellMoni Payment Reference

6. Enter the Exact Airfare Amount

7. Enter your PIN

You will receive an SMS confirming the transaction and containing the booking reference ID as your ticket number.

If you have provided your email address during your CellMoni wallet activation, an email will be sent to you confirming the payment and details of the booking reference number, date and time of payment.

3. How long does it take for PNG AIR to confirm the payment?

Once the payment is completed and confirmed by CellMoni, PNG Air will change the status of your booking from pay later to paid, and your ticket will be available. There is no delay between the CellMoni payment and the confirmation by PNG Air. Payment is real-time and SMS or email confirmation sent.

4. If I pay with CellMoni, what proof do I provide to airport check-in staff that I have paid for my travel?

The e-ticket will be generated upon payment confirmation and sent to your email that you provided during the booking. The booking will be marked paid, which will be visible to Airport check-in staff. As a precaution, remember to print your e-ticket prior to come to the airport.

5. Is there a limit to pay for my PNG Air ticket?

There is no limit for payment of your PNG Air Ticket. However, there are limits applied to your wallet, daily, per transaction, and wallet size. Please feel free to call CellMoni Customer Care on 888 to confirm the limits of your wallet.

6. What do I do if I pay the wrong booking reference?

Prior to confirming the transaction by entering your CellMoni PIN, ensure that the booking reference number is correct. If the booking reference number is incorrect, the transaction will fail.

7. Am I charged a fee for paying my PNG Air ticket through CellMoni?

There is no service fee when paying your ticket using CellMoni. Only the amount of your ticket will be debited from your CellMoni wallet without any additional cost.

8. Can I use my Digicel Airtime to pay for my PNG Air ticket?

No, you cannot use your Digicel airtime to pay your ticket and you cannot transfer your airtime to your CellMoni. Visit the nearest Authorized CellMoni Agent to deposit money into your CellMoni wallet.

9. Can I get a refund if I decide to cancel my ticket?

Yes, you would get your refund if your ticket is canceled. Direct your request to PNG Air office or call PNG Air Customer Care on 16111 to request the refund and the appropriate process will be applied to your request.

CellMoni overview

1. What is CellMoni?

CellMoni is a product of Digicel. CellMoni turns your mobile phone into a digital wallet.

Now with CellMoni, Digicel customers can buy airtime, make payments and take control of their finances. It is safe, secure and convenient.

2. What other services are available on my CellMoni Wallet?

Through your CellMoni Wallet, you will have the following services available.

2.1. Send Moni: Domestic Money Transfer to another CellMoni Customer. The recipient can withdraw cash or use for any CellMoni product or service.

2.2. Top-up Services: Add Airtime to prepaid number, or buy Data Bundle, buy Digicel TV plan or buy easiPAY.

2.3. Withdraw Moni: Convert your CellMoni e-value into Cash at an Authorized CellMoni Agent

2.4. Pay Bills: Pay Post-paid Bills or Invoices, Water bill

2.5. Payments: Pay for Goods and Services at a Merchant/Make loan repayments or do savings to MiBank or Mama Bank accounts/Make payments to contribute to your savings accounts with Nasfund Eda Supa

2.6. My Account: Do account related queries such as Balance Check, Change PIN and identify closest Authorized Agent and others.

3. How can I activate my CellMoni Wallet?

Simple, visit a Digicel store or an Authorized CellMoni Agent to register your Digicel mobile number to CellMoni.

Activating CellMoni is free.

Activating CellMoni does not take more than 5 minutes.

Please make sure you bring your ID card, as it will be required.

o Finally, dial *888# and you will be requested to personalize your PIN to secure your wallet.

You will receive a default PIN via an SMS the registration is completed.

4. Is CellMoni secure?

Yes, after your registration is successfully completed, you will receive an SMS from 888 with your default PIN. It is through this way only that you can personalize your PIN.

You can change your PIN code at any time, as you will be required to validate any transaction you will be performing by entering your PIN.

To change your PIN code, you will need to Dial *888#, go to My Account and Change PIN.

5. Is CellMoni safe?

Your CellMoni is a much safer way to keep your money than in cash.

CellMoni is protected by your PIN code and you being the only one that knows your PIN code, only you have access to your money.

The only way someone can steal your money is if you have shared your PIN code and have access to your phone.

It is very important not to share your PIN code with anybody or write it down anywhere.

6. How to load money to my CellMoni wallet?

You have to visit an Authorized CellMoni Agent or Digicel Store to load money into your CellMoni wallet.

You will only provide your CellMoni wallet number, which is your phone number, hand the cash to deposit to your CellMoni and the exact same value will be credited to your CellMoni.

A SMS will be sent to your number to confirm that the transaction is successful.

You can check your balance to confirm the deposit.

Deposit is free.