PAY YOUR WATER BILL WITH CELLMONI
An easy and convenient way to pay your water bill anytime, anywhere.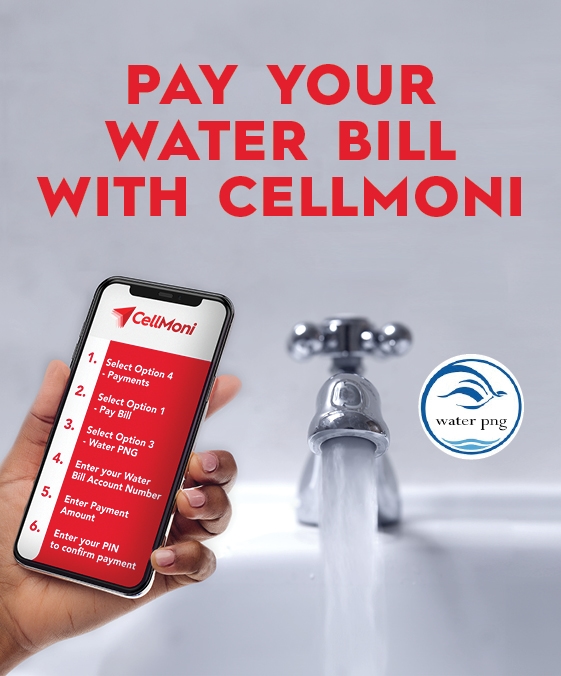 A new and convenient way to pay your water bill with CellMoni
Simply Dial *888# and follow the prompts to make payment.
1.How can I pay my water bill with CellMoni?

To pay your water bill, you should be an active CellMoni customer with a balance in your wallet and follow below steps:

1. Dial *888#

2. Select option 4. Payments and send.

3. Select option 3. Water PNG

4. Enter the Water bill account number and send

6. Enter Amount in Kina (Minimum K10)

7. Enter Pin to confirm.

You will receive an SMS confirming the transaction and containing the transaction Id.

2. What is the minimum and maximum value for Water bill payment?

The minimum is amount K10 and the maximum is K500. The payment will fail if the amount is not within that range.

3. Can I pay others Water bill?

Yes, you can pay any water bill if you enter their water bill account number.

4. How long does it take for my payment to get updated at Water PNG?

You will receive an instant confirmation of your payment and your water bill account will be updated within 24 hours.

5. What to do if I pay to a wrong water bill account?

Prior to confirm the transaction by entering your CellMoni PIN, ensure that the water bill account number and account are both correct. In case, the payment is done to a wrong account number, please call CellMoni Customer care at 888 for assistance.

6. Am I charge any extra fee for paying my water bill through CellMoni?

There is no service fee when paying your water bill using CellMoni. The same amount you want to pay will be debited in your CellMoni wallet without any additional cost. CellMoni is the cheapest way to pay your bill.

7. Can I use my Digicel Airtime to pay my Water Bill?

No, you cannot use your Digicel airtime to pay your Water Bill and you cannot transfer your airtime to your CellMoni. Visit the nearest Authorized CellMoni Agent to load money into your CellMoni wallet.

8. What should I do if I have been disconnected even, I have made my payment through CellMoni?

After paying your Water Bill with CellMoni, you must contact or visit Water PNG office to be reconnected, 24 hours after the payment.

9. Can I pay my reconnection fee with CellMoni?

No, only the bill could be paid with CellMoni. Visit Water PNG office to pay for the reconnection fees.

10. Can I visit a CellMoni Agent to pay the Water Bill on my behalf? Is there any extra fee to pay to the Agent?

Yes, CellMoni Authorized Agent would be able to pay the bill on your behalf without any extra fee. Hand the cash to the Agent and your water bill account number and the Agent will make the payment for you.

Please feel free to contact our customer care on 888 for additional information or assistance.