YOU CAN PURCHASE EASIPAY WITH CELLMONI
Keep your power on with CellMoni today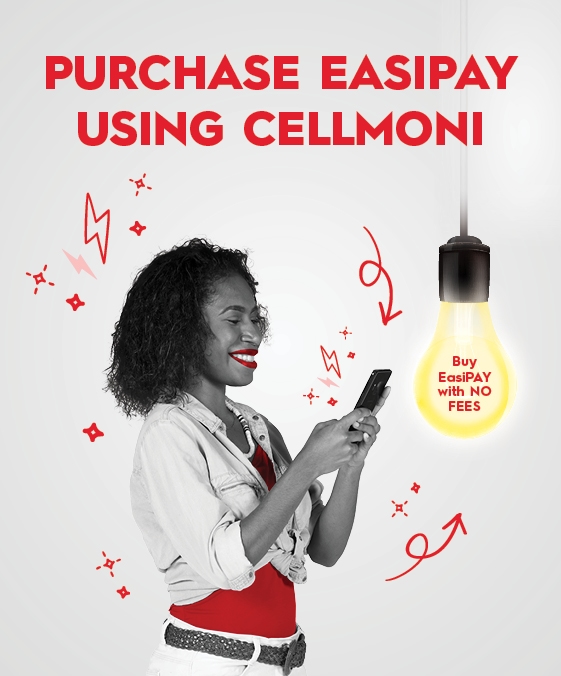 Buying EasiPAY is now cheaper, easier, and more convenient when using your CellMoni Wallet.
Keep your Pawa on with CellMoni.
Deposit Cash at an authorized CellMoni agent into your CellMoni wallet.

Dial *888# and follow the prompts.

Call 888 for assistance.
What is easiPay?

easiPay is a service provided by PNG Power Limited whereby customers who buy power receive an SMS containing the 16-to-20-digit EasiPay token number and the amount of power units (kWh) purchased. The customer enters the digits on the easiPay meter box. If the numbers are entered correctly, the amount of electricity in kWh is registered on the meter. The minimum purchase is K15.

Targeted customers

 Household customers buying or using easiPay to light their houses.

Resellers buying and selling easiPay on behalf of customers.

1.      What is Cellmoni? 

CellMoni turns your mobile phone into a digital wallet.

Now with CellMoni, Digicel customers can buy airtime, make payments and take control of your finances.

It is safe, secure and convenient.

2.      What other services are available on my CellMoni Wallet?

Through your CellMoni Wallet, you will have the following services available.

1.     Send Moni: FREE Domestic Money Transfer to another CellMoni customer. The recipient can, with the funds, withdraw cash or use any CellMoni product or service.

2.     Top-up Services: Add credits to a prepaid service such as Airtime or Data Bundle, buy a Digicel TV plan or easiPay.

3.     Withdraw Moni: Convert your CellMoni into Cash at an Authorized CellMoni Agent

4.     Pay Bills: Pay Post-paid Bills and Invoices

5.     Payments: Pay for Goods and Services at a Merchant

6.     My Account: Do account related queries such as Balance Check, Change PIN and identify closest Authorized Agent and others.

3.      How can I activate my CellMoni Wallet?

Simple, visit a Digicel store or an Authorized CellMoni Agent to register your Digicel mobile number to CellMoni. It is free and should not take more than 5 minutes. Please make sure you bring your ID card as it will be required. You just need to dial *888#, and you will be requested to change your PIN to secure your wallet.

4.      Can I buy easiPay with my Digicel as it was before?

Yes, easiPay is back with Digicel. You should register your mobile number to Cellmoni to be able to buy your easiPay using your CellMoni wallet. It is safe, easier, convenient and free.

5.      How free is it to buy easiPay with CellMoni?

There is no service fee when buying easiPay using CellMoni. The same amount you want to pay will be debited in your CellMoni wallet without any additional cost. CellMoni is the cheapest way to buy easiPay and to keep your pawa on.

6.      How can I buy easiPay? 

•       To buy easiPay, you should be an active CellMoni customer with a balance in your wallet and follow below steps:

1. Dial *888# and send (*889# for reseller)

2. Select option 2. Top-up services and send.

3. Select option 2. easiPay

4. Enter the meter number and press Send

6. Enter Amount in Kina (Minimum K15)

7. Enter Pin to confirm.

You will receive an SMS confirming the transaction and containing the token number to be entered into the meter box.

7.      What happens if I don't receive the SMS? 

Feel free to contact our customer care on 888 who will assist to provide the token number, or you can contact PNG power to get your token. You will be required to provide the meter number and the exact time you did the transaction.

8.      Can I use my Digicel Airtime to buy easiPay Token?

No, you cannot use your Digicel airtime to buy easiPay and you cannot transfer your airtime to your Cellmoni. Visit the nearest Authorized Cellmoni Agent to register and load money into your Cellmoni wallet.

9.      Who is responsible if I don't receive my Token?

If your transaction is successful, you will receive an SMS confirmation and the token. If the SMS is not received or deleted by mistake, contact our customer care team to request your token or you can contact PNG power to get your token. You will be required to provide the meter number and the exact time you did the transaction.

10.   What should I do if I buy a token for a wrong meter number?

If you enter a wrong meter number, the transaction will fail if the meter number doesn't exist. In the event the meter number entered is an active one and the transaction is successful, you must contact PNG Power for assistance, as we cannot cancel a token.

11.   What is the minimum and maximum value for easiPay? What will happen if I try less than minimum?

 The minimum is amount K15. Cellmoni will not accept any purchase for less than the minimum amount. Thus, you will receive an error message if this is attempted. Similar error message will be received if you try to buy for more than K1,000.

12.   Are resellers receiving commission when buying easiPay?

Commission is not paid for easiPay bought by Reseller as this service is not including on their EVD business for which 6% is paid for every Top-up. Resellers are free to charge customers who are in need of easiPay for a service fee if they choose to.

Please feel free to contact our customer care on 888 for additional information or assistance.