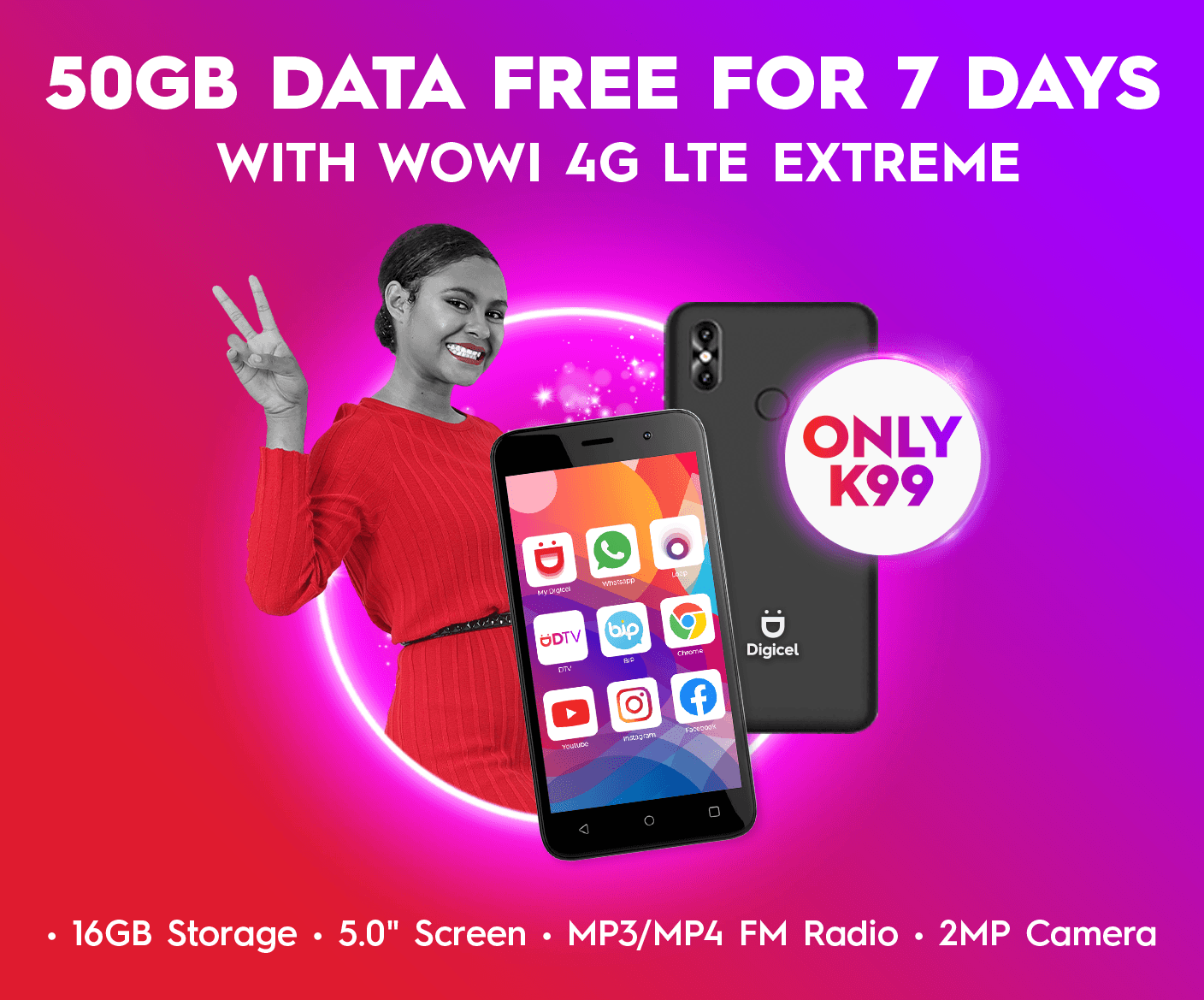 Buy a WoWi 4G LTE Extreme Smartphone for only K99. and receive 50GB FREE Data for 7 Days.
WOWI SMARTPHONE UPDATES.
1.What is this about? Announcing upcoming price changes for Digicel's WoWi 4G LTE smartphone from K199 to only.

2. When will the new price take effect? The new price take effect on 1 September 2023 (00:00:00hrs). It will revert to K199 from 31 December 2023 (23:59:59hrs).

3. What do I receive when I purchase this smartphone? If you purchase a WoWi 4G LTE smartphone, you will get a Free 7Day 50GB data bundle PLUS a Free 60min voice bundle.

The voice bundle is applicable for local Digi-Digi calls only.

Offer does not include a free SIM.

You can purchase a WoWi smartphone from exclusive Digicel stores specifically flagships, premium and container kiosks and store-in-store outlets.

4. Who is eligible for this offer? Applies to Digicel Prepaid users only. If you had participated in a similar campaign where your current mobile number received a similar offer, please use a different Digicel SIM to enjoy this offer.

5. How do I activate the promotional bundles? Use the following steps as a guide to activate the free bundles.

Step 1: Insert a valid Digicel SIM and switch on the WoWi handset.

Step 2: You should automatically receive the bundle after performing Step 1.

Step 3: Press *130# to confirm or via MyDigicel app.

6. Are there any restrictions on the free bundles I receive? No. The free 50GB is open data for browsing, gaming, etc. whereas the free 60min voice bundle is only applicable for local Digi-Digi calls.

7. I bought a WoWi 4G smartphone during the campaign but DID NOT receive the free bundles.

What should I do? After performing the steps in Question 5, if the free bundles were not awarded, the sales representative must dial 123 to contact Customer Care for further assistance. Then provide the following information.

Mobile Number of the customer's first Digicel SIM that was inserted in the device.

IMEI (found on the box of the customer's device).

Date of Purchase and the Digicel store where the customer purchased the device.