DIGICEL eSIM IS HERE
Experience The Future of Communication.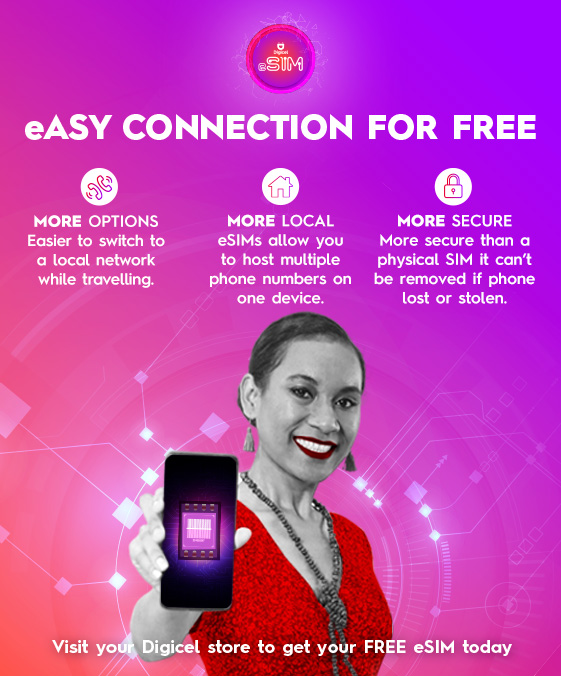 About eSIM
eSIM is the latest technology for mobile devices removing the need for physical SIM cards. An eSIM is an embedded in your mobile device and performs the same function as a normal SIM card but eliminates the need to swap SIMs in your device.
1.      What is an eSIM? An eSIM is a digital SIM that allows you to use a mobile plan from your carrier without having to use a physical SIM.
2.      How does an eSIM differ from a SIM? A SIM card is a physical chip card you slot into your phone, normally in a tray that pops out from the side, and comes in three sizes: mini-SIM, micro-SIM and nano-SIM.
An eSIM on the other hand is built into your mobile device and cannot be physically removed. You can use it to switch between devices in seconds, without having to contact your service provider to get it done. It works just like a standard SIM card, but without the hassle of physical transferring the card that poses a risk of loss or damage.
3.      When will Digicel launch eSIM? Digicel's eSIM has been available since December 2022. As of May 2023, our valued customers can get an eSIM from Digicel stores.
4.      How much is an eSIM from Digicel? It will not cost you anything to get an eSIM from a Digicel store, nor are there additional costs involved to activate it.
You can continue using your existing plan. However, typical rules around top up of prepaid SIMs within x days or the SIM will expire applies to the eSIM as well.
5.      Is the eSIM available to all customers? Yes. Any prepaid or postpaid customer of Digicel with an eSIM-supported device can have an eSIM.
6.      How does it work? To get started, use the following steps:
a.    Pick up a new eSIM from a Digicel store.
b.    Await the QR code with instructions on how to configure it on your device.
c.     You must be connected to the internet (preferably Wi-Fi), then go to Settings to add eSIM.
                                    i.    Android*: Settings – Connections – SIM Manager to add a mobile plan.
                                   ii.   iPhone**: Settings – Mobile/Cellular – SIMs to add eSIM.
d.    Scan the QR code.
e.    Once the operation is successful, select and activate eSIM to connect to the network.
* For a Samsung device can only add or activate the e-SIM if there is only ONE physical SIM working as primary; if there is two SIM active it will not allow scanning the eSIM. SIM 1 or SIM 2 must be disconnected in order to use the eSIM as a primary or secondary.
** For iPhones, a new profile has to be created after scanning and assign to the eSIM as a Primary or Secondary profile.
7.      What does it mean when a device is an eSIM-only device? These are devices that only support eSIM and do not have a physical SIM card; instead, all of the information needed to connect your device to use on the Digicel network is stored on the eSIM inside the device.
8.      How do I know if a phone has an eSIM?
a.   All iPhones from iPhone XR onwards support eSIM.
b.   For Android devices, check the physical device to determine if eSIM is supported.
9.      Where do I check android devices to know if it has an eSIM?
a.    Go to your Settings and select Connections – SIM Manager
b.    If "Add mobile plan" is not listed then an eSIM cannot be activated on the device.
c.     A companion device like a smart watch can still be programmed through your phone even if your phone does not have an eSIM.
10.      What are the devices that support eSIM? eSIM is supported by various phone manufacturers as follows.
Apple
·         iPhone XR
·         iPhone XS, XS Max
·         iPhone 11, 11 Pro, 11 Pro Max
·         iPhone SE (2020)
·         iPhone 12, 12 Pro, 12 Pro Max, 12 Mini
·         iPhone 13*, 13 Pro*, 13 Pro Max*, 13 mini*
·         iPad Pro (2018+)
·         iPad Air
·         iPad
·         Watch SE
·         Watch series 3-6
Note:  Apple has more eSIM compatible devices than any other manufacturer. Since the launch of iPhone XR and XS in 2018, all new devices have eSIM capacity. *2 eSIM can be active at the same time for iPhone 13 range.
Samsung
·         Galaxy Fold
·         Galaxy Z Fold 2 5G
·         Galaxy Z Fold2 5G
·         Galaxy Z Fold3 5G
·         Galaxy Z Flip
·         Galaxy Z Flip 5G
·         Galaxy S20
·         Galaxy S21, S21+ 5G, S21 Ultra 5G
·         Galaxy S22, S22+ 5G, S22 Ultra 5G
·         Galaxy Note 20 Ultra 5G
·         Galaxy Note 20
·         LTE Galaxy Watch
Note:  Samsung waited almost two years to begin using eSIM technology. Currently, very few devices are eSIM compatible, but they are planning to expand eSIM to their mid-range phones soon.
Google (Pixel)
·         Pixel 3, 3e
·         Pixel 4, 4a
·         Pixel 5
·         Pixel 6, 6 Pro
Note:  Google was one for the first manufacturers to support the implementation of eSIM in their phones, alongside Apple. All Google Pixel models are compatible with eSIM from the Google Pixel 2 and onwards.
Huawei
·         P40
·         P40 Pro (excl. P40 Pro +)
·         Mate 40 Pro
·         P50 Pro
Note:  The Huawei P40 and P40+ are the first mobile phones from the Chinese manufacturer to support eSIM. Huawei P40 Pro+ has no eSIM support. Huawei models only allow you to install one eSIM at a time.
Other devices
·         Nuu Mobile – X5
·         Planet Computers – Gemini PDA
·         Rakuten Mobile – Rakuten Mini
·         Motorola – Razr 2019
·         Oppo – Find X3 Pro, Reno 5 A, Reno 6 Pro 5G, Find X5, Find X5 Pro
·         Sony – Xperia 10 III Lite
11.      Are there any devices that do no support eSIM? Devices that do not support eSIM include:
·         iPhones purchased from China or Hong Kong are dual sim, with no eSIM.
·         Pixel 3a purchased in South East Asia
·         Android Q Beta versions
·         Samsung Galaxy S20 Hybrid Dual SIM
·         Huawei P40 Pro+
·         LG, HTC, Xiaomi, Honor, RealMe, OnePlus, ViVo
12.      What does it mean when a device has a Dual SIM with an eSIM? It means that the device can accept both a physical SIM and an eSIM. This allows you the option to have two different phone numbers on the same device.
13.      What happens to my physical SIM when my eSIM is activated? If you are moving the mobile number of your physical SIM to an eSIM, the physical SIM will no longer work. If you are purchasing a new eSIM with a new phone number, you can use both the physical and eSIM, as they will have different phone numbers.
14.      Will my contacts and SMS be transferred to my eSIM when I move from a physical SIM? You would need to back up your contacts to your phone and transfer the data to your eSIM once installed.
15.      How can I change my eSIM profile? You can change your eSIM profile by visiting a Digicel Store and requesting a new eSIM with a new phone number.
16.      How do I link my eSIM to my MDA profile? You can use the same phone number to access your MDA account if you have switched from physical to eSIM. If you purchase an eSIM with a new phone number, you will have to register for a new MDA account.
17.      Can I have the same eSIM profile on different eSIM-supported phones? No, only one device is allowed at a time per profile.
18.      How long does it take to activate an eSIM? Your eSIM will be activated within 2 hours of scanning the QR code.
19.      Do I need to submit any documents for eSIM activation? No physical documents are requirement to activate your eSIM however a valid ID is needed to register the eSIM.
20.      Can I call the customer care support to activate my eSIM? No, to activate your eSIM, follow the steps given process below in this document.
21.      What should I know when I am changing from one eSIM mobile phone to another within a short period? When it is time to replace your phone or upgrade to a new model,
·       Check the old phone to find out if it has a physical SIM card, uses an eSIM, or both.
·      If the device you are replacing uses an eSIM, uninstall the eSIM on the device or wipe all data from the eSIM profile before you dispose of or recycle the device.
·       Scan the QR to re-download the eSIM on the new device.
·      If your old phone had a physical SIM card, you should remove it. You can either store it securely as a backup or destroy it so there is no risk of having the data on it stolen.
22.      What happens if my phone is lost or stolen, how can I retain my eSIM number? If the device that has the eSIM is stolen/lost, a SIM replacement is required. You will need to visit a Digicel store and request a new eSIM with your old phone number and provide the necessary verification or proof of ownership.
If the device that has an eSIM is lost or stolen, you can locate it easily because the eSIM is embedded in the device. No-one else will be able to activate another eSIM on this device.
23.      Can I recover my eSIM if I accidentally delete it? Yes, you should keep a copy of the QR code issued in the store so you will be able to re-scan the code in the event of accidental deletion.
24.      Can eSIM be switched off? Yes, you can turn your eSIM line on and off as you please.
·      Your eSIM, for a given country or region, will typically be displayed as a secondary line on your device and you can enable and disable its functionality as well as modify features within your settings.
25.      Will a Digicel eSIM work if my phone is locked to another network? No, a Digicel eSIM will only work if your phone is unlocked or locked to the Digicel network.
26.      Can I use eSIM for Roaming? Yes, you can roam with your eSIM once you purchase a roaming plan, or you can opt to Pay As You Go if you do not purchase a roaming plan.