DIGICEL TV POSTPAID SERVICE STATE OF ORIGIN PROMOTION
Win the Ultimate Origin Experience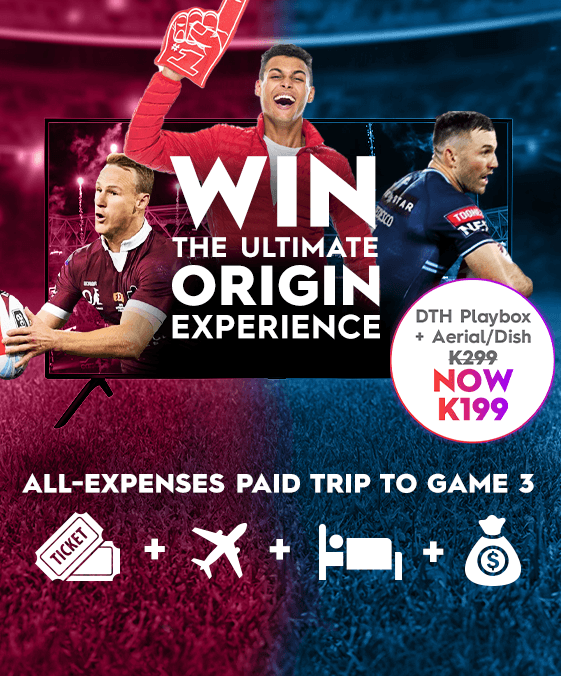 What is the promotion about?
Customers who activate a postpaid service plan (40, 60 or 80 channel plan) will qualify to win a trip to Sydney to watch the State of Origin Game 3 Live on 12 July 2023. Customer will also receive a FREE 30Day Premium plan for DigicelTV App.
2. What expenses are covered in the trip?
Trip includes Return Ticket, Hotel accommodation for 2 nights, AUD 300 spending money and Stadium Ticket.
3. When does the Promotion start/end?
The promotion started 1 June 2023 at 12am and will end on 5 July 2023 by 1159pm.
4. Who is Eligible for this promotion?
This promotion is applicable to TV customers who activate a new Postpaid service plan including:
 Any new sign ups (see Question 5),
 Prepaid-to-Postpaid converted customers,
 Customers who have disconnected service for more than 6 months and wish to reconnect service.
5. How does a winner qualify for this Promotion?
To qualify for this promotion, customer is required to sign up and activate a new Postpaid service plan as follows:
 Purchase of equipment for K199 plus a service plan and a security deposit.
o The lowest plan costs K85 with a security deposit of K85 (lowest plan).
o A 60 Channel Plan costs K188 and 80 Channel Plan costs K249. Both plans are also qualifiers for this promotion.
6. Does the K199 cost cover installation charges as well?
No, the K199 is applicable only to the required equipment. The customer would be required to pay K100 for installations within POM and Lae cities. This cost also varies depending on distance out of the city. Centers outside POM and Lae will be redirected to an Installation Contractor. Labor charges vary depending on location of the customer.
Is this promotion applicable for all centers?
The promotion is applicable to all centers. However, the port of Departure for the trip is from Port Moresby. Should the winners be from an outside center, they would be responsible to get to Port Moresby. All and any associated costs to get to Port Moresby will be borne by the winner.
7. Are current active customers eligible?
No. They will only receive a free 30Day Premium Plan to access on DigicelTV app.
8. How many winners are there?
 There will be 2 individual winners selected at the end of the promotions.
9. Can the winner travel with a companion?
Yes, however, Digicel will only cover the costs associated with the winner's expenses. The companion would be required to pay for his or her own tickets, flights and accommodations.
10. How about VISA and Passport Requirements?
Winner must have a valid Passport and Australian VISA. Should the winner not have a passport or valid Australian VISA the winner will be awarded PGK2,800 prize money.
11. How will the winners be drawn?
 All participants that qualified during the promotional period will be eligible for the draw to win a trip.
 Two (2) individual winners will be drawn and announced on 6 July 2023.
 Selections will take place at the Digicel Head Office.
 Winners will be contacted by telephone, and redemption method is outlined below.
12. What do I need to know about claiming the Prize if I am the Winner?
a. During the phone call, full details of the Prize handover (redemption) process and location will be confirmed.
b. You will need to present a valid Government issued photo ID (passport, national identification card or driver's license) and the phone number used to participate in the Promotion.
c. You will be required to complete and sign a Redemption Form (or Statutory Declaration Form) confirming receipt of the Prize and/or a Consent Release Form authorizing the use of your name and a picture for marketing purposes as per the additional Terms and Conditions.
13. Who is not included from participating in the Promotion?
The following customers are excluded from participating in the Promotion:
a. Postpaid corporate & business account customers.
b. Any person who, at any time on or after April 1st, 2023, was or is a director, officer, employee, or agent of Digicel PNG or any of their respective parents, subsidiaries, divisions, or affiliated companies, franchisees or service agencies, independent contractors or suppliers of services to Digicel PNG;
c. Families of our employees;
d. Employees and families of employees of any company associated with this Promotion, including any provider of the Grand Prize;
e. Persons under the age of eighteen (18); and
f. Persons who do not reside in the participating market.