All In Home Plan
This Christmas, get the best bundled deal with us!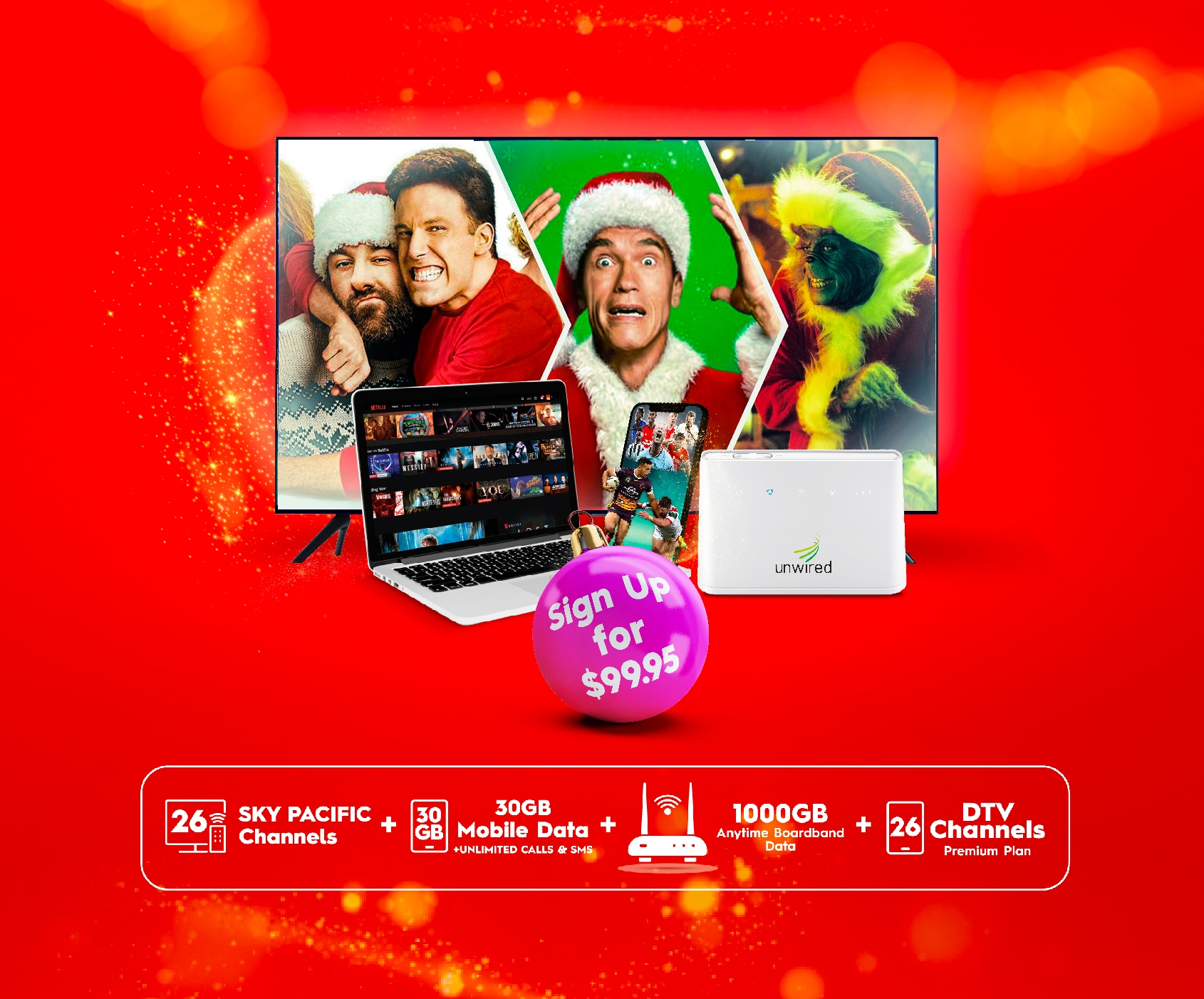 Promotion Details
All In Home Plan Just Got Better! No more restrictions on when and how you use your data.

Get 1,000GB ANYTIME data on Unwired. Sky Pacific subscription with access to 26 premium channels. 30GB Prepaid Data, and Premium Plan access to DTV App.

All In Home Plan is giving 26 world-class channels of entertainment, sport, cartoons, and movies; 1,000GB ANYTIME Data on Unwired and 30GB Prepaid Data.
| Sky Pacific | Unwired | GSM | Monthy Rental | DTV App |
| --- | --- | --- | --- | --- |
| Single Room Monthly Package with 26 channels | 1000GB ANYTIME DATA | 30GB DATA + Unlimited Calls & SMS | $99.95 | Premium Plan access with 24 Channels |
1. Customers who have existing unwired device and want to sign up for the ALL IN HOME plan, can use the same device




2. This plan is based on a monthly prepay service 




3. Current Triple Play Terms & Conditions is applied together with these additional Terms and Conditions for this product




4. This offer is applicable to the Sky Pre-paid customers only and Unwired prepaid/Postpaid subscribers provided they have a working sky account. For inactive sky subs, additional charges may require for parts and service call.




5. Post Pay customers can also opt in if they wish to opt in provided they will have to have their bill cleared and the account will be converted to prepay mode with no invoice being provided




6. Bundle will Auto-Renew when the TV plan will renew, i.e. After 28 days if the sub has $99.95 left in the account than the whole package (Sky Pacific + 1,000GB Anytime+ 30GB Prepaid + DTV Premium Pass) will auto renew.




7. There is no rollover of unused data upon auto-renewal




8. Subscribers on this plan can purchase $20 for 12GB or $10 for 5GB top-up bundle if they exhaust the awarded bundle before expiry date. 




9. Top-up bundle will expire together with the primary bundle, example my Sky Bundle was activated on 10/03 and I purchase Top-up bundle on 20/03, than Top-up Bundle too will expire on 10/04 with Sky Bundle and not 20/04.




10. Top-up bundle will not rollover unused data and no auto-renewal of the bundle.




11. For Plan change, bill due date will change and will be from the day of plan change.
1.    If I am streaming online via my All In Home Plan, what bundle will it be charged on?
1000GB Anytime Data on Unwired.



2.    When does the GSM (mobile) data load in New signup to All In Home Plan?
Loaded instantly and renews every month with 30GB data.



3.    Does my billing cycle change if I move over to the new plan?
Yes, your billing cycle will change. For new customers, billing cycle is from the Date Sky Pacific is activated.



4.    I am an existing Triple Play customer, can I switch to this $99.95 plan?
Yes, you can and you will be rebate for the day's loss.



5.    Can I top-up my account if I exhaust my data bundle?
Yes, with top up bundle that will expire together with your primary bundle due date.



6.    Where can I make payments?
At any Digicel Outlet, MyCash or online.



7.    Can I make a payment at a third party outlet?
Yes you can, however, account will be only activated once Finance will verify and apply the payment.



8.    How do I change my WIFI Details?
We recommend that you change your WIFI password from time to time. This is to prevent unauthorized users from accessing your account and any loss of data.

You will be able to change your WIFI password by also logging into the modem just like you check your data.



9.    What happens if my data finishes?
Should you exhaust your Unwired Data you will be require to do either of the following; a) Top up your account via a Retail Store or wait for next roll over of your TV account.



10.    How do I check my data balance?

Option 1 – Texting/SMS You can check your data balance by texting your Unwired Modem Number: ____________ to 7202020. The Modem Number can be located on the invoice Texting from a Digicel mobile is free of charge.

Option 2 – Log onto modem and send SMS



Blade Modem:

Connect to your BLADE modem

Enter http://192.168.1.1 into your web browser

Login to the modem a. Username : admin b. Password : admin

Click on SMS Mail icon on the top right

In Phone Number enter "130"

In Content enter "balance"

Click Send to receive the data balance message.




Pocket Mifi Modem:

Connect to your Pocket MIFI modem

Enter http://192.168.8.1 into your web browser

Login to the modem a. Username : admin b. Password : admin

Click Confirm

Click SMS on the top tab

Click New Message

In the Recipient field enter "130"

Click Send to receive the data balance message.
Inquires
The Helpdesk is available for your assistance from 6am to 12am, 7 days a week;
Email address: skypacific@digicelpacific.com
Phone Contacts: 7003123
Free call: 123 (Free for Digicel users)