Top 8 Technology Trends
Changing the face of technology for SMEs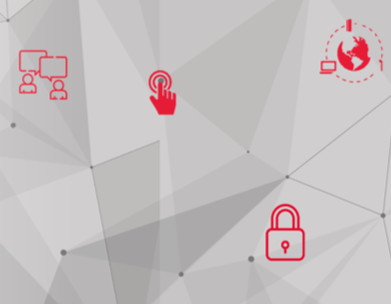 Top 8 Technology Trends for SMEs in 2021
Changing the face of technology for SMEs
With technology evolving exponentially, Digicel has noticed that not only is the technology capable of being truly transformative, but with outside forces such as the Covid-19 pandemic, the wider society is helping to drive those changes by demanding solutions to suit their unique challenges. As companies transform to maintain relevance, and markets become more competitive, it is imperative that they remain agile while engaging in continual learning and relearning.
Here are some technology trends that Small and Medium Enterprises (SMEs) in our markets are already taking advantage of.
 1. Remote Working
The Covid-19 Pandemic has directly accelerated a paradigm shift in what constitutes a workplace, away from traditional offices to remote working environments. Remote Work Policy became a cornerstone of business and economic continuity during the original shelter-in-place regulations. It will continue into the future, particularly since it has now been proven to be not only possible and successful, but necessary. In many other cases, companies are adopting a blended approach to remote working, allowing staff the opportunity to work remotely, but requiring in-person meetings when permitted.
2. Edge Computing
As Cloud Computing has become more mainstream, Edge computing is beginning to emerge as a means of solving some of the issues of Cloud computing i.e allowing users to process data in remote locations with limited or no connectivity. Edge computing preserves bandwidth and increases efficiency by processing information closer to the users and devices like smartphones or tablets, rather than sending that data for processing in the cloud. Connectivity costs are also affected, as processing some of the data locally reduces bandwidth and mobile data usage. Popular examples include deployment on industrial equipment and pumps to improve monitoring and develop predictive maintenance capabilities.
 3. Internet of Things (IoT)
The Internet of Things (IoT) has often been hailed as a technology of the future, but many available devices have already been enabled for WiFi connectivity, sending and receiving data over the Internet. Many companies are already taking advantage of the opportunities presented by IoT, particularly where it has been seen to improve efficiency and decision-making by proving faster data collection, analysis and action.
4. 5G
The next generation of mobile networks is widely expected to be up to 100 times faster than 3G and 4G, which enabled internet browsing and data-driven services. 5G will provide smarter, more stable wireless networking. These benefits will erase processing delays and drive advances in technology use in factories, manufacturing and smart retail, for example, while ultimately boosting productivity.
 5. Cyber Security
The scale and number of global cyber threats has increased significantly, since the arrival of the global Covid-19 pandemic. This increase is directly attributed to the fact that many organisations have been forced to increase their network end points, and implement Cloud services due to Remote Working. Organisations which have not taken the necessary precautions have been vulnerable to catastrophic assaults. Digicel Business cannot emphasise enough the importance of a Cyber Security strategy as an imperative for keeping your business operational, in the face of ever-present threats from malicious actors. Cyber Security will always be a trending technology, as it must constantly evolve to defend against hackers.
 6. Voice Interfaces and Chatbots
Many consumers are getting used to communicating with machines by simply speaking or typing our requests into voice systems. More and more businesses will choose to interact with their customers via voice interfaces and chatbots, as a means of tapping into efficiencies and cost-reduction exercises.
 7. Mass Personalisation
As consumers become more demanding, the concept of mass-personalisation is, as you might expect, the ability to offer highly personalised products or services on a mass scale. Tailoring product definitions in order to attract loyalty has become more and more important to companies seeking to attract and retain new customers. Mass personalization is achieved through harness customer data and predictive technology.
8. XD Printing
4D printing and beyond has shown that it has wide applications that can be transformative in many industries, and particularly in manufacturing and retail. When combined with trends like mass-personalisation, XD printing has proved itself to be an important trend worth monitoring and is already an important tool in areas as diverse as furniture-building, fashion and prosthetics.
So there we have it, the key technology trends for SMEs this year. How many of these are you already using in your business? Are there any that would help you overcome challenges you are facing with your business today?