Digicel Fiji Lights up Xtreme Fibre
Suva, Fiji – Friday, 7 July 2023.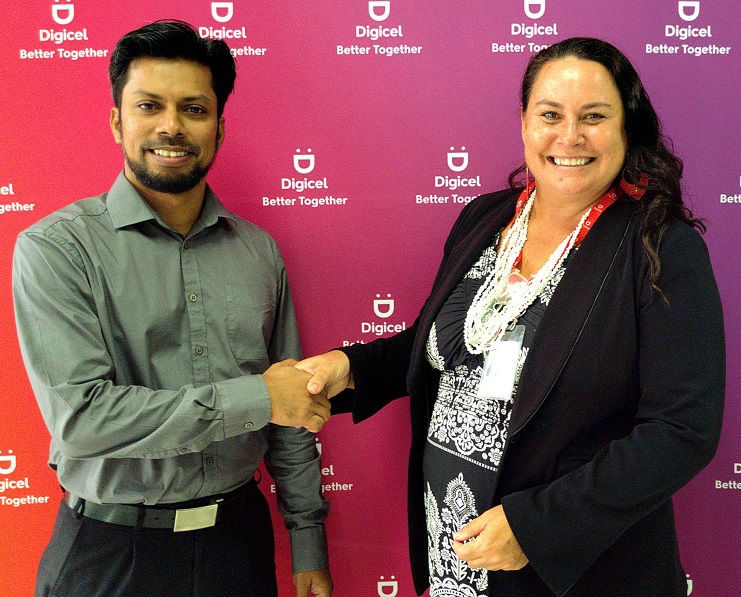 Digicel Fiji today announced the successful completion of the first phase of its Xtreme Fibre network in Suva. The underground fibre layout project started last September and covers seven kilometres along Khalsa Road, Nokonoko Road and Ratu Dovi Road to the International Landing Station (ILS) in Vatuwaqa.

This marks a significant milestone in Digicel Fiji's mission to enhance connectivity and provide cutting-edge solutions to its business customers. This is also part of the LTE network upgrade and capacity expansion program that will see improvement in data speed and coverage.

The new Digicel Xtreme Fibre network will also support the 5G testbed.
Digicel Fiji CEO, Farid Mohammed, said; "With the completion of our first phase rollout of the Digicel Xtreme Fibre network in Suva, we are ensuring suburbs are fully equipped for the data age. With the finest digital infrastructure under the streets, our corporate customers and public institutions will soon be tapping into the huge benefits that are to come."
Furthermore, Digicel Fiji is thrilled to announce that Coca-Cola Europacific Partners Fiji (CCEP), a renowned global beverage company, has become its first commercial customer to be connected through the newly laid fibre network. This partnership demonstrates Digicel Fiji's commitment to delivering advanced technologies and innovative solutions to Fijian businesses.
"Digicel Fiji is dedicated to bringing new technologies and providing cutting-edge solutions to meet the evolving needs of our business customers. By completing the first phase of our Xtreme Fibre layout and connecting CCEP, we are taking a significant step forward in achieving our goal of delivering high-speed, reliable, better value, and secure connectivity to businesses across Fiji," added Mr. Mohammed.
Head of Business Process & Technology at CCEP Fiji, Rizwan Ali, commented; "We are committed to continual optimisation for our business to ensure that we can supply our customers consistently. The Digicel Xtreme Fibre network will enhance our connectivity and capability to further optimise our business resilience in technology."
The new Digicel Xtreme Fibre network is independent and stand-alone, which helps build greater redundancy and resilience for businesses like CCEP Fiji. Digicel Fiji's fibre network is certified to international standards and uses the latest and best technology available. It was designed to ensure the highest quality of service using US-grade fibre. Furthermore, the fibre has been installed deeper in the ground to build greater security against accidental damage during earthworks and road maintenance projects.
"The second phase of the Xtreme Fibre layout project is already underway, with the HDD (Horizontal Directional Drilling) machine visibly active on Fletcher Road, Vatuwaqa. We are determined to complete the fibre ring around Suva, which will enable seamless connectivity throughout the city. The Xtreme Fibre network will run through the city and extend up to Princess Road, connecting to the Khalsa Data Center covering up to 18 kilometres," said Mr. Mohammed.
He continued, "The completion of the Digicel Xtreme Fibre network will not only bolster our network infrastructure but also enhance the digital capabilities of businesses and will keep businesses at the cutting edge of technological change and underpin our growth and success for generations to come."
Contact the Digicel Sales team today to get your company on Fiji's Fastest Fibre!