TRBR Renews Digicel Vanuatu Operating License
Port Vila, Vanuatu – Thursday, 13 July 2023.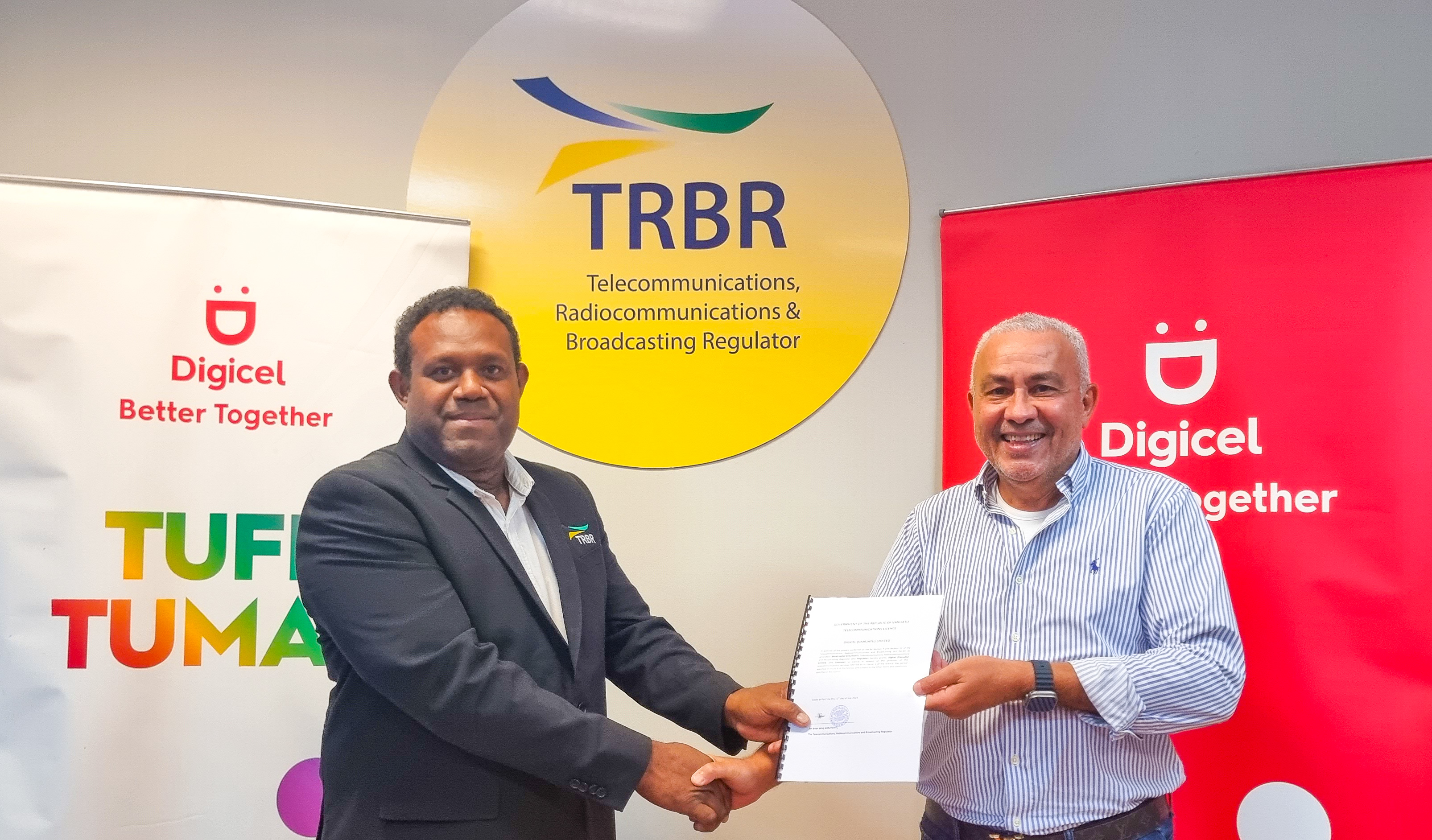 Digicel Vanuatu is delighted to announce that it has been granted a renewal of its operating license in Vanuatu for the next 15 years. The signing ceremony was held at the Telecommunications, Radiocommunications, and Broadcasting Regulator's (TRBR) office with the Regulator, Brian Winji.
This renewed license reaffirms Digicel Vanuatu's commitment to providing telecommunication services to the people of Vanuatu. Digicel has been an integral part of Vanuatu's communication landscape since its inception in 2008, and the company is excited to continue building meaningful connections with the local community for another 15 years.
Commenting on the new license, Digicel Vanuatu CEO, Yaser Maher, took the opportunity to thank the Government and people of Vanuatu for welcoming Digicel and for their ongoing commitment to Digicel.
Digicel Vanuatu CEO, Yaser Maher, said; "Over the past 15 years, Digicel Vanuatu has become a trusted and leading telecommunications and entertainment provider in Vanuatu. Our focus has always been on delivering the best of the best to our customers through mobile, broadband, MyCash mobile wallet, Digicel TV, and ICT business solutions services. We have continuously invested in network infrastructure and technological advancements to ensure our customers receive reliable and innovative services. This license renewal allows us to continue our mission of delivering high-quality communication solutions to individuals and businesses across the nation."
"Digicel's relationship with Vanuatu goes beyond telecommunications. We have actively supported various community initiatives, including education, sports, and disaster response, positively impacting the lives of many people. We remain committed to fostering the development of Vanuatu and supporting the nation's growth in the digital age."
"As we embark on this new chapter, we are excited to collaborate with TRBR and other stakeholders. Together, we aim to enhance connectivity, drive digital inclusion, and provide a superior telecommunications experience to the people of Vanuatu. Our focus remains on delivering innovative solutions and excellent customer service as we connect individuals, businesses, and communities across the nation."
"We are grateful for the support and trust shown by the people of Vanuatu over the past 15 years. This license renewal is a reflection of their confidence in Digicel Vanuatu. We will continue to work tirelessly to meet their evolving communication needs and contribute to the growth and development of Vanuatu," concluded Maher.