Santos is Highlands Regional Sponsor for Men Of Honour Season 7 Awards
Santos PNG Stakeholder Management Senior Vice President Wayne Kasou presented a cheque of K25,000 to Digicel PNG Foundation CEO Serena Sasingian for the Men Of Honour Highlands Region Category Awards.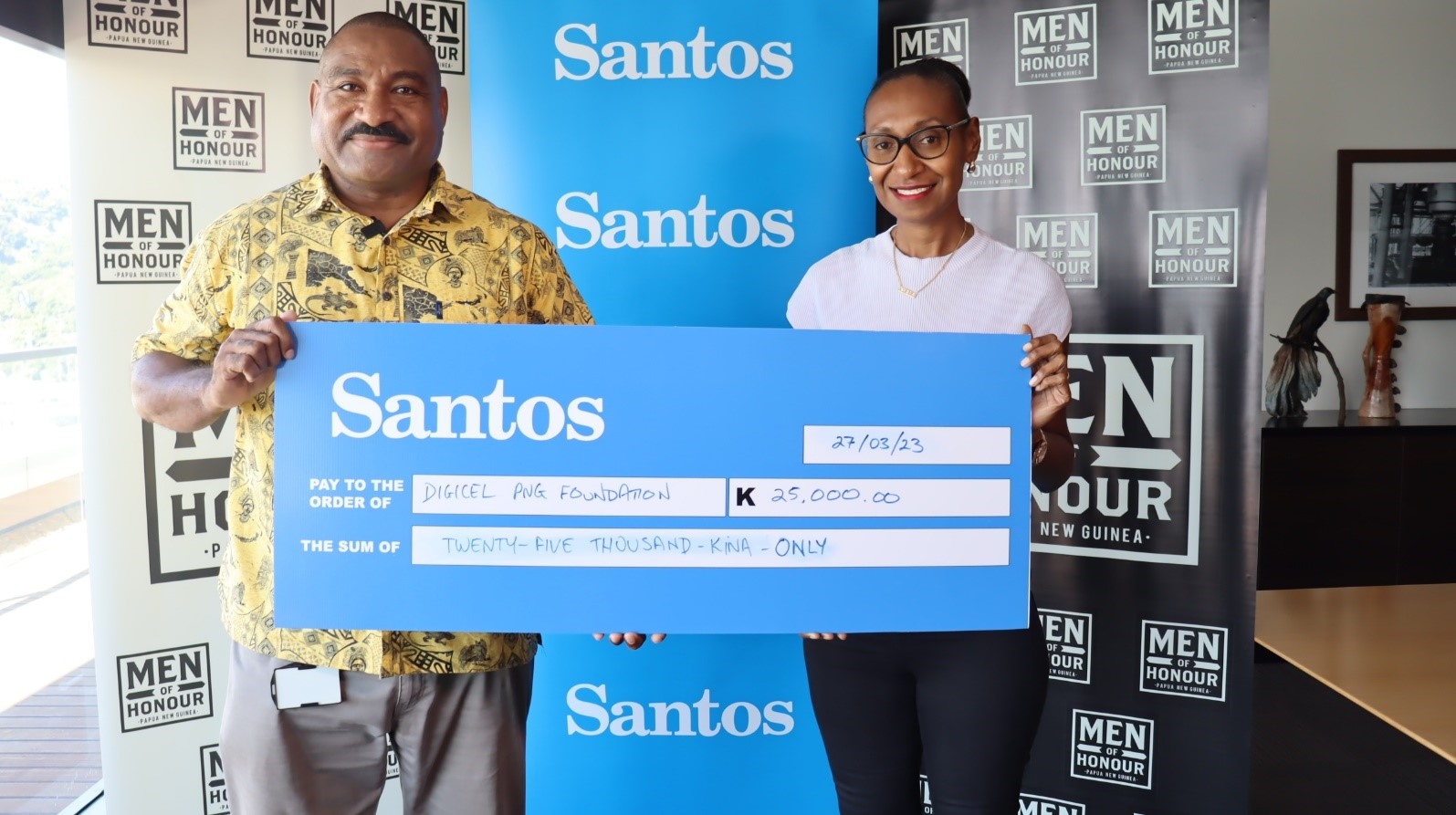 Tuesday 28th March 2023, Port Moresby, Papua New Guinea || Santos will continue its support as the Highlands regional sponsor for the 7th season of the Men Of Honour Awards with a support of K25,000.
The Men of Honour Campaign is a peace building initiative by Digicel PNG Foundation that focuses on positive behavior with the aim to break the cycle of violence in PNG. To date, the Men of Honour Campaign has awarded 95 men across the nation on the outstanding work they are doing in their communities to build peace and address drivers of violence in their community. This year, the campaign is in its seventh season. Three ambassadors will be selected from each of the four regions, with one 'Unsung Hero' award going to an ambassador from each region.
This will be the third year Santos has come on board as a sponsor for the Men of Honour Awards. Santos PNG Stakeholder Management Senior Vice President Wayne Kasou said that it was an easy decision for Santos to continue its support as a sponsor for this season as a company with shared agenda in addressing gender-based violence.
''This initiative by Digicel Foundation is important, in terms of creating a platform that recognizes men making a difference in their communities and being role models for other men, women, and children so that everyone can collectively and collaboratively combat gender-based violence in the country.''  
He added that collaboration and partnerships are key to achieving social change in PNG.
When receiving the cheque of K25,000, Digicel PNG Foundation CEO Serena Sasingian thanked Santos for its continued support with the Men Of Honour Campaign.
"Partnership with the private sector is vital to push social change in the country for the better. We remain grateful to Santos for its support and commitment in helping us drive our peace-building initiative forward, recognizing ordinary men doing extraordinary work through this platform.''