Digicel Samoa takes Naming Rights Partnership for Marist St Joseph's 7s
Apia, Samoa - May 27, 2023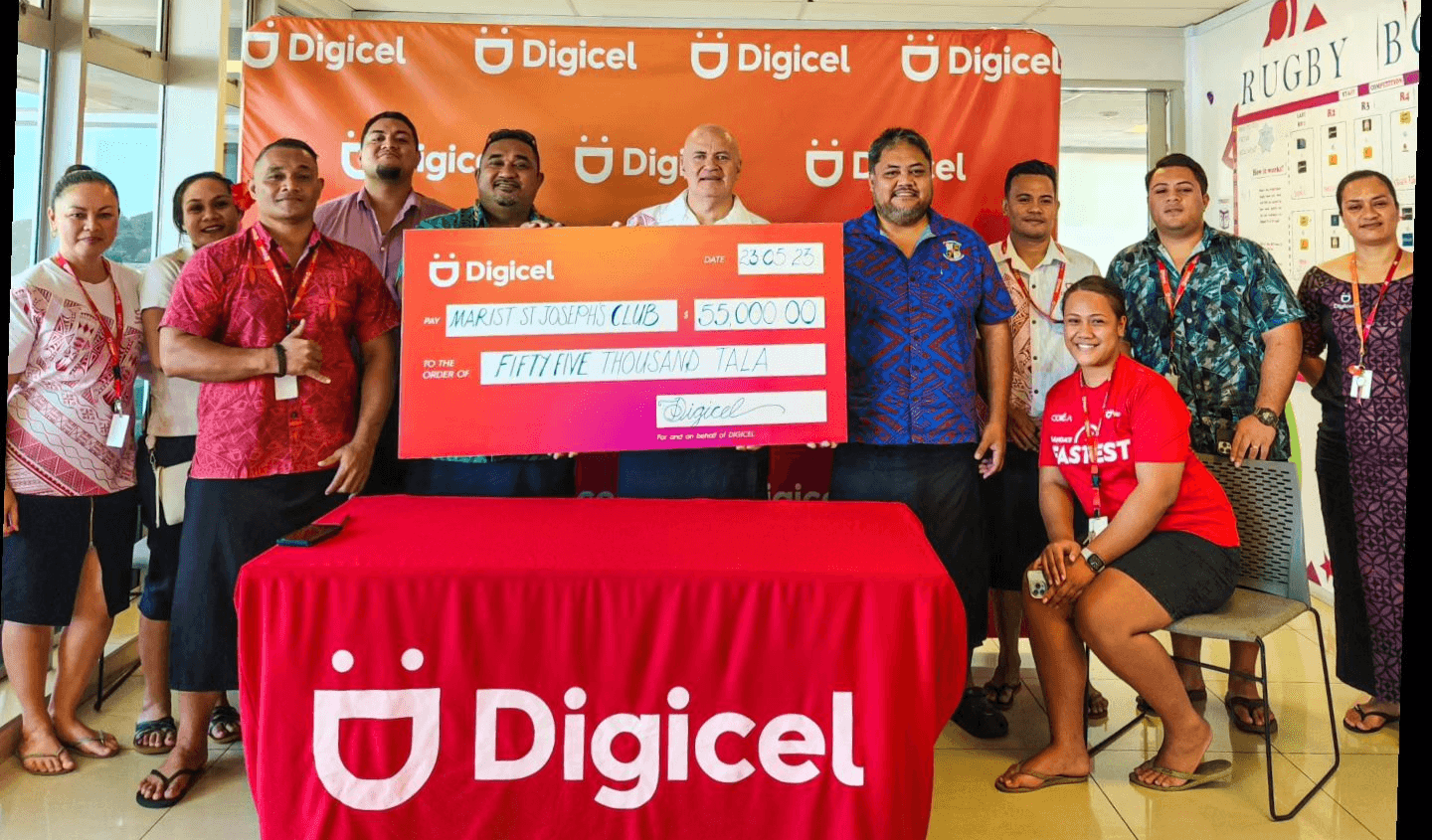 Digicel Samoa is thrilled to announce its partnership as the naming rights sponsor for the 35th Marist St Joseph's International Rugby 7s tournament. With a sponsorship amount of $55,000tala, Digicel Samoa supports the esteemed Marist St Joseph's Club in preparing for the upcoming International 7s tournament from June 8th to 10th at Apia Park Stadium.
The sponsorship was presented at Digicel's head office at SNPF Plaza, marking the beginning of an exciting collaboration between Digicel Samoa and Marist St Joseph's Sports Club. This partnership aims to strengthen the local rugby community and foster the growth of sports in Samoa.
Fia'ailetoa Pepe Christian Fruean, Chairman of Digicel Samoa, said that the company was proud to announce its role as the naming rights sponsor for the prestigious Marist St Joseph's International Rugby 7s tournament.
"Digicel Samoa acknowledges the importance of rugby and Marist's role in building community spirit, youth development, and promoting a healthy lifestyle. We are thrilled to support Marist St Joseph's Sports Club and our sponsorship demonstrates our dedication to the local community and rugby excellence."
"We have no doubt that with Digicel's support, we will continue to develop our local talents and host our tournament at international standards," said Pouniu Peter Schmidt, Marist St Joseph's Sports Club President.
"We are humbled to partner with Digicel Samoa to ensure we deliver the best results for our 35th International 7s tournament. Marist has long used this event as a vehicle to support and advance our grassroots development programmes in sports and create pathways towards professional career opportunities in rugby for our young girls and boys. After 35 years, we have been recognized as leaders in this sport with direct requests from our neighbouring countries to participate in our annual tournament," he said.
This year's tournament features teams from Australia, New Zealand, Fiji, and American Samoa. A noticeable high-caliber team that will be coming is the Fiji development 7s team which will have at least six players who played in the recent World Sevens Series.