New Double Classroom Launched for Gawa Konda Primary School in Simbu Province
New double classroom with WASH facility at Gawa Konda Primary School in Simbu Province launched on 9th June 2023.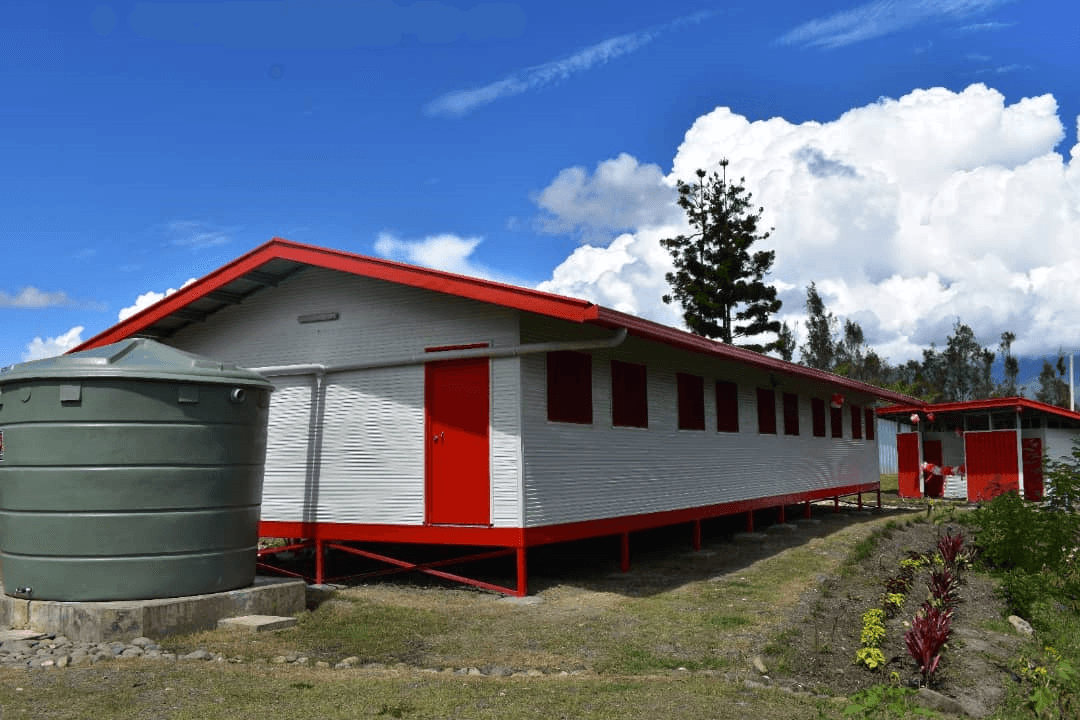 Friday 9th June 2023, Port Moresby, Papua New Guinea || A new double classroom funded by Digicel PNG Foundation was launched on Friday 9th June 2023 at Gawa Konda Primary School in Simbu Province.
Digicel Foundation has been investing in education for the past 15 years, as it believes that every child has the right to education. Through its Education Infrastructure Development Program, Digicel Foundation announced the completion and launching of the new double classroom for Gawa Konda Primary School. Gawa Konda Primary School is located in ward 7 of Gena Waugla LLG of Kerowagi District in Simbu Province with a total of 430 students from grades one to eight. The school has been operating for five years now with little infrastructure. School Board member and community leader Mr. Michael Kigl thanked Digicel Foundation for the timely support of a new classroom.
"The school previously had grades four to eight, and just this year took in grades one to three. With the addition of the three grades, the school desperately needed a new classroom to cater for the additional students. On behalf of Gawa Konda Primary School and my community, I would like to thank Digicel Foundation for the timely assistance of the new double classroom which will be used by our grade seven and eight classes.''
The project led by Chaperz Building Construction Company commenced in February this year and was completed over a period of three months at a cost of K350,000.00. The school and community assisted the construction workers with food and accommodation to ensure the successful completion of the project. This is the fifth primary school double classroom the Foundation has built in Simbu Province.
The completed school infrastructure project comes with two fully furnished classrooms inclusive of 20 standard student desks, whiteboards, pin boards and teachers' tables and chairs for each classroom. The project also includes a 9,000L Tuffa tank on a reinforced concrete base with a lockable tap to ensure the students have access to clean drinking water, and an additional two 900L Tuffa tanks are provided with a WASH facility for students.
The official launch event was organized by the school and community. Jeremiah Mana, General Manager for Digicel PNG in Goroka was present to officiate the event.  He said, "The DNA of Digicel, as our business grows, so too must our communities grow. A good education opens doors for children to escape poverty. And that is why, for the past 15 years, Digicel Foundation continues to invest in education to ensure the next generation of Papua New Guineans have access to opportunities, so that no child gets left behind.'' Mr. Mana also asked the students to act responsibly and take care of the new classroom. Mr Mana was accompanied by Digicel PNG Sales, Marketing and Cellmoni teams who assisted the community with purchases and activations. 
Since its establishment in 2008, Digicel Foundation has invested over K169 million into social projects in all 22 provinces across PNG.
In Simbu Province alone, Digicel Foundation has invested over K2.837 million into projects. This includes:
·         6 elementary school classrooms,
·         5 primary school classrooms
·         2 Libraries
·         4 Mobile Health Clinics (ambulances)
·         1 female safe house, and
·         2 community grants
Digicel PNG Foundation will continue to work in partnership with the government, communities and other stakeholders to ensure we create a world where no child is left behind.