Hauleneme Primary School Excited to Launch New Double Classroom funded by Digicel Foundation
Hauleneme Primary School students and teachers with the community at Aresili village in Dreikikier, East Sepik Province celebrating the launching of its new double classroom on 26th July 2023.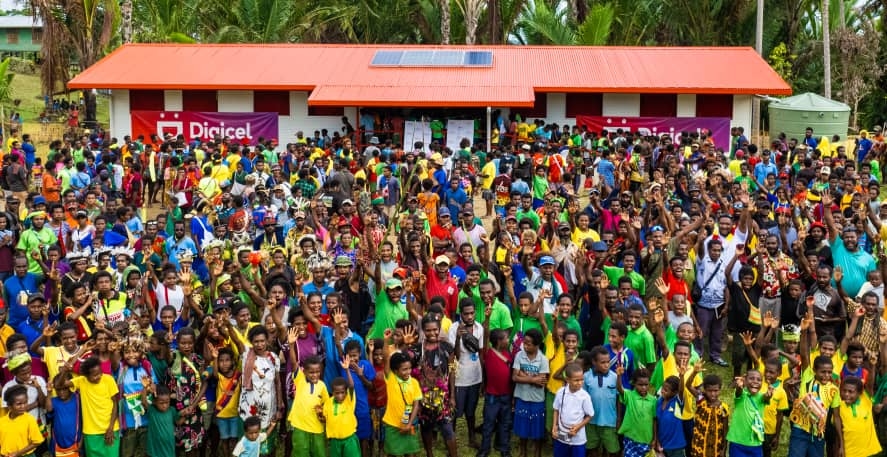 Wednesday 26th July 2023, Port Moresby, Papua New Guinea || Hauleneme Primary School and the community at Aresili village in the Ambunti-Dreikikier District in East Sepik province were excited to launch the new double classroom funded by Digicel PNG Foundation on Wednesday 26th July 2023.
Seeing the terrible road condition, the community took the initiative to fix the 2.5 kilometer road leading to the school in preparation for the launch event of the new classroom. The story of Aresili villagers fixing the road was published in the National newspaper on 13th July 2023. The community has been closely involved in the classroom project since its commencement in February this year, working alongside Nabs Building Contractors who was engaged by Digicel Foundation in the construction of the classroom infrastructure. 
Through Digicel PNG Foundation's Education Infrastructure Development Program, the school received a double classroom building that included two fully furnished classrooms with 20 standard student desks, whiteboards, pin boards and teachers' tables and chairs in each classroom. The project also includes solar rooftop panels for electricity, a 9,000L Tuffa tank on a reinforced concrete base with a lockable tap, and a WASH facility for students.
Teachers, students and the Administration at Hauleneme Primary School were overjoyed to receive a fully furnished classroom from Digicel Foundation. The school Board Chairman Bernard Engime thanked Digicel PNG Foundation for recognizing the need and selecting Hauleneme Primary School as one of the recipients for its Infrastructure Development Program.
''We are truly grateful for the recognition and support by Digicel PNG Foundation. When we heard that our school was selected to receive a classroom, it motivated us as a community to work together and help where we can so that this project can be a success. This is the first time to receive this type of support in our district. That's why we are excited to celebrate this achievement today. And we promise that as a school and community, we will take care of this building so that our children can use it for many years to come.''
Digicel PNG Foundation was pleased to see Hauleneme Primary School and the community at Aresili village taking ownership of the project from the start. This K350,000 worth project brings the total investment in East Sepik Province up to K3.5million, with seven primary and seven elementary schools, two libraries, four ambulances and five community grants. To date, Digicel Foundation has invested a total of K169million in all its projects across PNG. And it continues to work in partnership with the government, communities and key stakeholders to ensure we create a world where no one is left behind.