Digicel PNG Staff Participate in International Changemakers Week
Digicel PNG staff after the cleanup and painting of classrooms and playground at Cheshire Disability Services in Port Moresby on 9th June 2023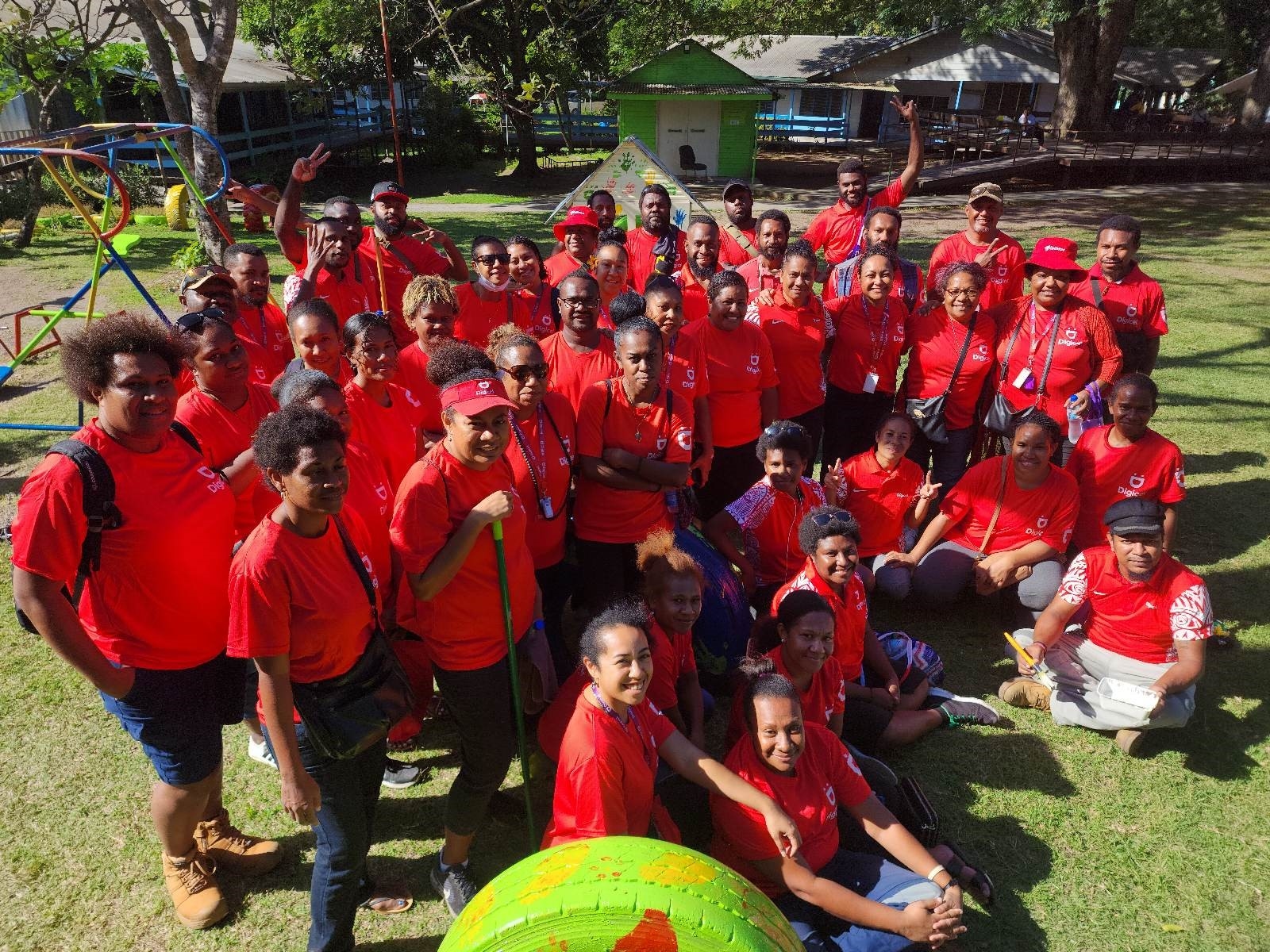 Friday 9th June 2023, Port Moresby, Papua New Guinea || Digicel PNG Foundation organized five volunteer events for Digicel PNG staff as part of its Live Love Learn (3L) Program for the International Changemakers Week from 5th to 9th June 2023.
The International Changemakers Week is a week of service, providing the opportunity for staff to give back to their communities through volunteering. In conjunction with Team International, Digicel Foundation organised the following events; Cleaning and repainting classrooms at Sevese Morea Primary School and Cheshire Disability Services in NCD, refurbishment of a mini library and book donation for Situm Primary School in Lae, donation of baby bundles to Waniati Maternal Waiting Home in Goroka, and donation of toiletries to Mt. Hagen General Hospital in Western Highlands Province. These are part of the 45 volunteer events coordinated by Telstra across 30 locations in Asia, Oceania, Europe and Americas.
Almost 140 Digicel PNG staff participated in all five events. In Port Moresby, a total of 100 staff were involved in cleaning and repainting of the Digicel Foundation donated classrooms at Sevese Morea Primary School on 5th June, and at Cheshire Disability Services on 9th June 2023. Postpaid TV Sales Manager Cheryl Wangihomie from the Corporate Sales team was excited to participate for the Changemakers Week on Monday 5th June. ''I'm so glad that I volunteered today to be part of what's happening here and to be part of what the Foundation is doing, where it's going, and how many little children its affecting. And I'm proud that I work with Digicel and we're giving back today.''
In Lae Morobe Province, 21 staff refurbished a storage shed at Situm Primary School, transforming it into a mini library. The staff also worked on the weekends to ensure the library was ready to be launched at the official donation event on Monday 5th June. Five Digicel tents were donated to the school's sports department for its five house colors, and the mini library was fitted with four bookshelves, 400 assorted books, 13 baskets trays, a wall clock, globe, charts and décor. The school library was a need identified by one of the Lae staff.
On Wednesday 7th June, Digicel PNG staff in Mt Hagen donated toiletries to the Labor Ward at the Mt. Hagen General Hospital. The Western Highlands Provincial Health Authority CEO Mrs. Jane Holden was also present to witness the presentation. And in Eastern Highlands Province, Digicel PNG staff in Goroka donated baby bundles for the expecting mothers accommodated at Waniati Maternal Waiting Home during their visit on Thursday 8th June 2023. 
Digicel PNG CEO, Colin Stone was proud to see staff from across the four centres taking part in the International Changemakers Week.
''It is amazing to see our staff always eager to give back to their communities. As a company, we are proud to provide this opportunity for our staff to utilize their one day of paid volunteer leave, which is a total of about 1,104 hours of company time for 135 staff attending all five events. Giving back to the community is part of the Digicel PNG culture. As it is the DNA of Digicel, as our business grows, so too must our communities grow.''