Digicel PNG Foundation Gives PGK1million worth of Community Grants to 20 Local Organisations
PNG Society for Emergency Medicine is one of the twenty successful recipients of the 2022-2023 Community Grants Program. Members of the PNG Society for Emergency Medicine received a cheque worth K50,000 from Digicel Foundation team for its Point of Care Ultrasound in PNG.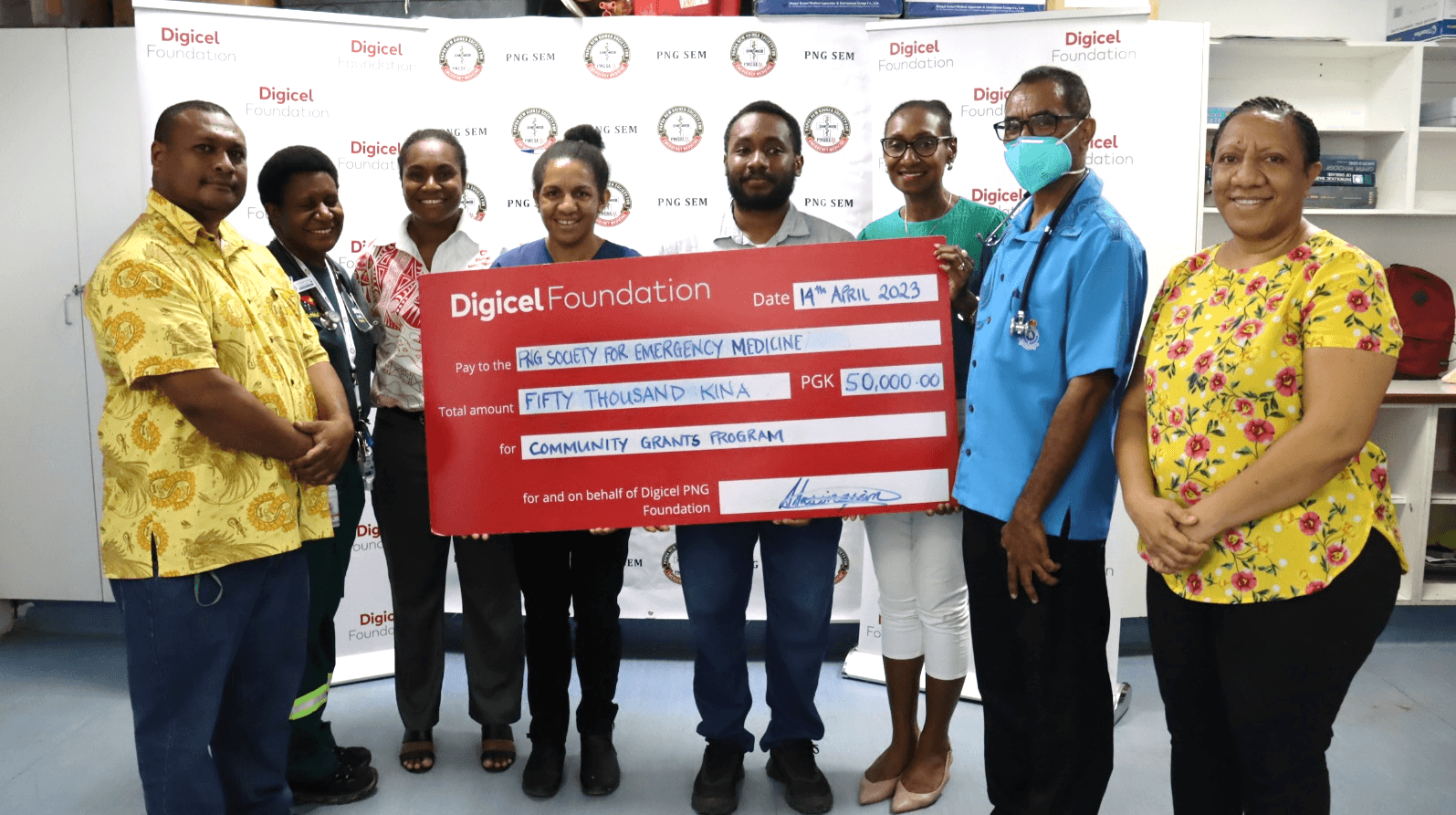 Friday 20th April 2023, Port Moresby, Papua New Guinea || Digicel PNG Foundation will give PGK1million worth of grants to support 20 selected local organisations from around Papua New Guinea through its 2022-2023 Leadership for Change Community Grants Program.
Through the Leadership for Change Community Grants Program, Digicel Foundation provides grants up to K50,000 to local organisations across the country who are delivering projects in the areas of health, education, water and sanitation, sustainable livelihoods, and safety. In addition to the grants, Digicel Foundation provides support in terms of capacity building, coordination and monitoring to ensure that these organizations successfully deliver their projects. The Community Grants Program has been provided annually since 2019, and to date given K3.5 million Kina.
The grants for these twenty organizations will go towards supporting projects such as safe houses, sports development, medical equipment, advocacy on gender-based violence, education, agriculture and WASH programs.
Digicel PNG Foundation CEO Serena Sasingian thanked the 20 local organizations for their commitment and tireless efforts in following the application process and congratulated them for being the successful recipients. She also acknowledged and thanked all the organizations who submitted their applications last year and encouraged them and others to apply for the 2023-2024 Community Grants Program which will soon be launched.
''We continue to receive an overwhelming number of applications for our Community Grants program every year, which shows us that there is a real need to support local organisations. Digicel Foundation will continue this program so that we can continue to help those who are providing solutions to local problems and making a difference in their communities.''
Representatives from each of the selected 20 organizations will be attending a capacity building training in Madang next month to learn the monitoring and reporting aspects of the program, so they are able to effectively implement their projects within the timeframe.