Digicel MyCash Partners with LICI Fiji
Suva, Fiji – Thursday, 24th August 2023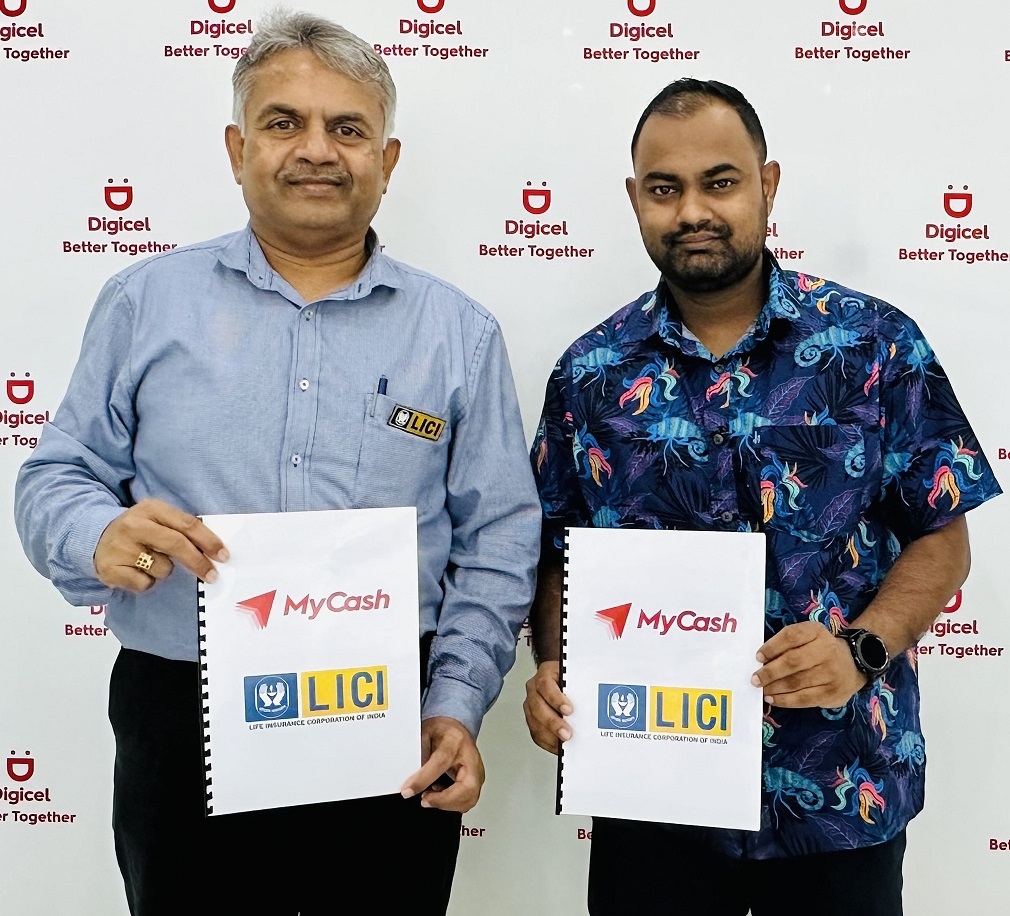 Digicel Fiji and Life Insurance Corporation of India (LICI), have joined forces to provide a new and convenient service for customers. Now, you can pay your insurance premiums using Digicel's MyCash App. This partnership aims to enhance LICI Fiji's services and make insurance more accessible by offering a simple and rewarding online experience.
With the Digicel MyCash App, you have a fast, reliable, and secure way to handle your daily financial transactions using your mobile phone. You can easily pay your LICI Fiji premiums directly from your MyCash wallet. The app also lets you do international money transfers, enabling you to receive money from overseas and make payments, all in one convenient app.
General Manager, LICI Fiji Operations, Pradeep Shenoy, said, "Our customers already had many options for paying their premiums which include online transfer to LICI account, at any branch of any bank in Fiji, at any Post Shop of Post Fiji and other electronic mediums. The partnership with Digicel Fiji MyCash will provide yet another convenient way to them of paying premiums from the comfort of their homes.
"As the leading life insurer of Fiji, it has been a continuous endeavour of LICI to provide better and enriching experience to the esteemed customers. A mobile App for customers was launched last year which provides a lot of information about their policies on their smartphones. They can check the details like premium position, loan availed, loan available, nomination, amount required to revive the policy in case it is not in force etc. The free App, 'LICI Fiji' can be downloaded from the Google Play Store. We are planning to launch "e Policies" very soon which will do away with the practice of printing physical (paper) policies." 
Mr Shenoy expressed his confidence that this new option for paying premiums will become popular very soon. He thanked Digicel for this partnership and for completing the onboarding process very smoothly.
The partnership is a significant step towards making insurance more accessible to people in Fiji. Digicel MyCash will make it easier for LICI Fiji customers to pay their premiums on time and ensure that they are protected when they need it most.
Digicel Fiji CEO, Farid Mohammed, said; "We are delighted to welcome LICI Fiji on our MyCash platform. Our unwavering commitment revolves around delivering exceptional customer experiences through innovative, secure, and resilient digital business solutions. Our topmost priority is to cater to the diverse needs of our valued customers, ensuring their satisfaction remains at the core of everything we do."
"We firmly believe that success is rooted in customer satisfaction and our relentless pursuit of excellence enables us to continually raise the bar in delivering cutting-edge solutions and experiences. By combining our expertise and resources with LICI Fiji, we are setting new standards in the industry, exemplifying our dedication to making our customers' lives easier and more enriched."
"We eagerly look forward to the opportunities this partnership will bring, as we take strides towards building a brighter, more connected future for Fiji and beyond. Together, we will redefine the realm of digital solutions and create an unrivalled customer experience that will be the hallmark of our success," concluded Farid.