BSP Continues Support for Men Of Honour Season 7 Awards with K25,000
BSP Head of Marketing and Public Relations Gorethy Semi presented a cheque of K25,000 to Digicel PNG Foundation CEO Serena Sasingian for the Men Of Honour Southern Region Category Awards.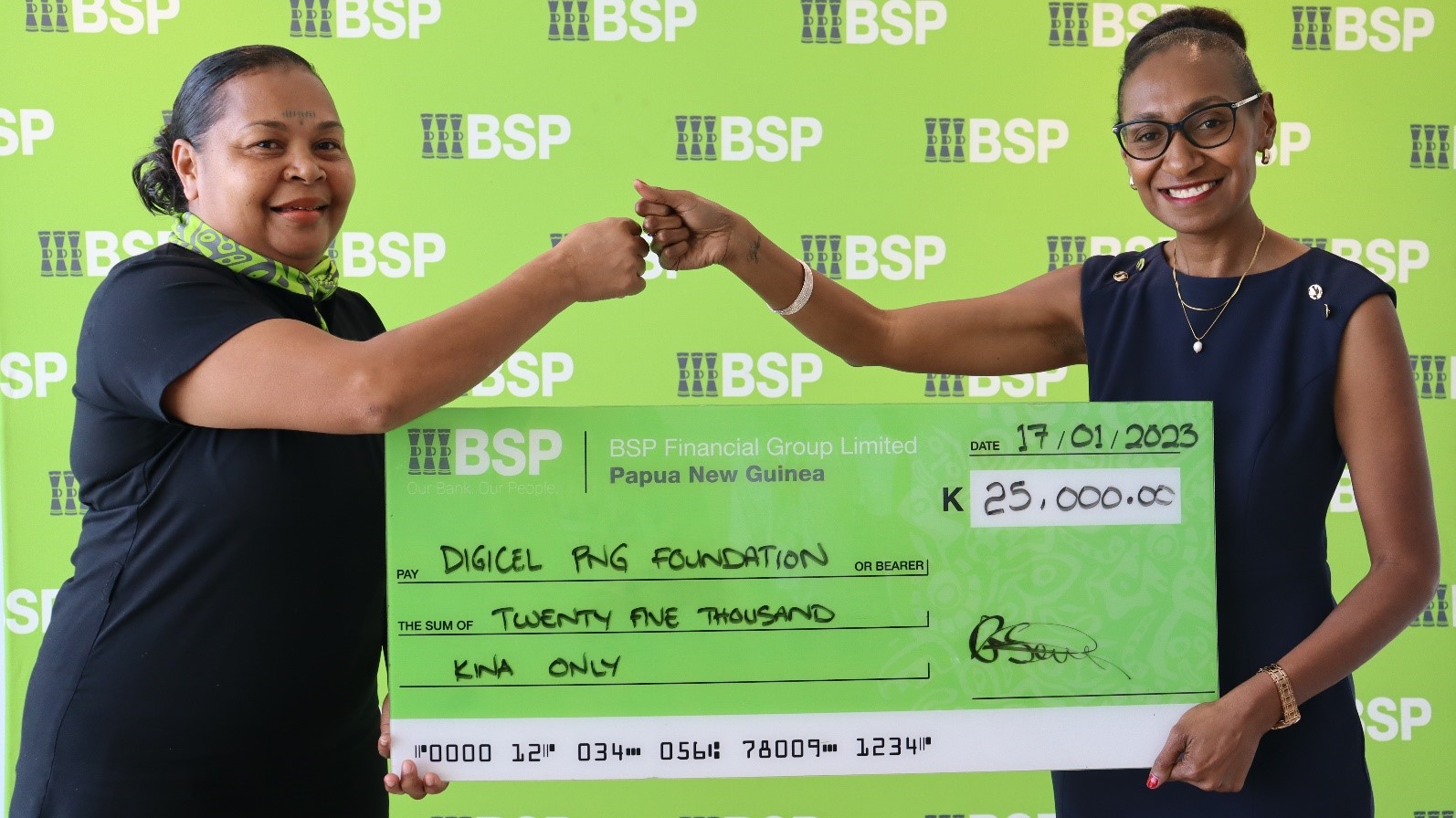 Tuesday 17th January 2023, Port Moresby, Papua New Guinea || BSP has renewed its sponsorship for the 7th season of the Men Of Honour Campaign by becoming a regional sponsor with support of K25,000.
The Men of Honour Campaign is a peace building initiative by Digicel PNG Foundation that focuses on positive behavior with the aim to break the cycle of violence in PNG. To date, the Men of Honour Campaign has awarded 95 men across the nation on the outstanding work they are doing in their communities to build peace and address drivers of violence in their community. This year, the campaign is in its seventh season. Three ambassadors will be selected from each of the four regions, with one 'Unsung Hero' award going to an ambassador from each region.
BSP Head of Marketing and Public Relations Gorethy Semi said BSP is pleased to continue its support for the third year now and this time with a sponsorship of K25, 000. She added that BSP will also provide additional support of BSP merchandise packs for each of the three selected ambassadors for the Southern Region Award.
"Leadership and Community are core values which BSP holds highly and what better way to demonstrate that through this campaign for the third year and reward a Man of Honour in this selected category. As a leader in our respective industry, it is only fitting that we recognize all leaders for their commitment and contribution in influencing positive changes in their respective communities. As a community oriented bank that gives back to the communities we operate in through our annual Community Projects, we are also proud to be supporting other worthy campaigns such as this.
Digicel PNG Foundation CEO Serena Sasingian thanked BSP for the continued support when receiving the cheque. She acknowledged the role BSP has played in addressing gender based violence through the Bel Isi initiative and their Black Thursday Campaign.
"It is vital that the private sector continues to work in partnership to take a stand against violence and recognize positive role models for the next generation to follow. We value our partnership with BSP, and appreciate its commitment in showing recognition to ordinary men doing outstanding work through this platform.''
Nominations are open until February 3rd 2023; click here to get a nomination form: https://bit.ly/3zn2902