Anyone can be Santa this Christmas with Digicel Fiji
Suva, Fiji – Thursday, 16th November 2023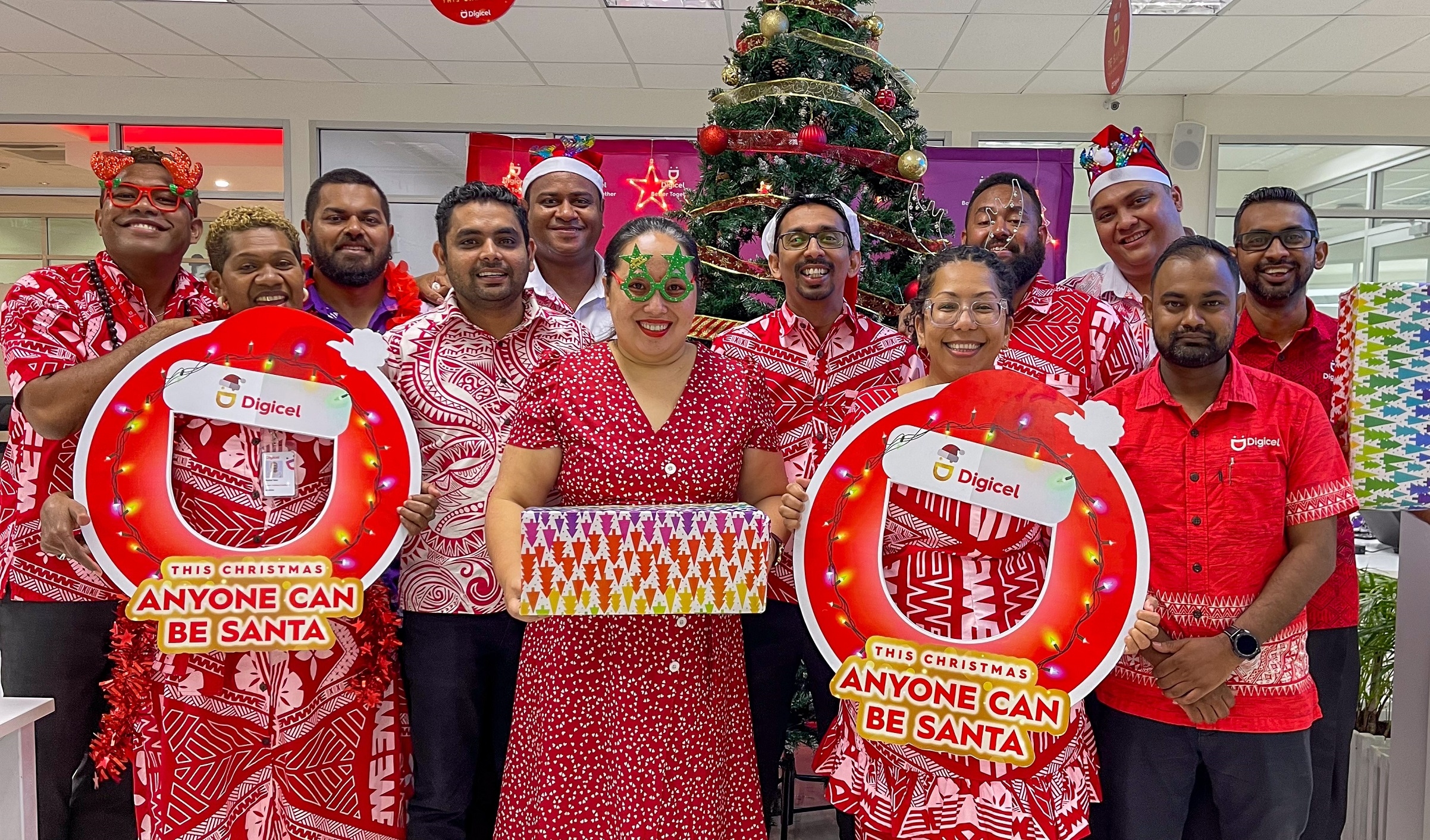 Get ready to experience the Christmas celebration in Fiji with Digicel Fiji. With a commitment to giving back to the community, overflowing with warmth and festive spirit, Digicel Fiji is thrilled to announce a spectacular promotion that will infuse this season with magic.
The Christmas promotion embodies the theme of 'Anyone Can Be Santa'. It is a testament to Digicel's enduring commitment to cherished customers and the community, echoing the timeless sentiments of generosity and kindness that define the essence of Christmas. Get ready to embark on a journey of joy and goodwill as we come together to make this holiday season special for everyone.
Digicel Fiji CEO, Farid Mohammed, said; "We stand by our promise to connect, support and give back to the community. This promotion not only aims to bring smiles to the faces of our customers but also to show our steadfast dedication to making a positive impact where it matters the most."
"Through acts of kindness, big or small, we can light up someone's day and remind them that the true meaning of Christmas is about sharing love and compassion. It's about showing that we care that we are there for one another and that we can make a difference in someone's life. It doesn't matter if the gift is grand or modest. What truly counts is your depth of compassion and warmth, love, kindness and understanding. Whether it's sharing a meal with your neighbour, helping those in need in our community, or simply being there for someone who needs a friend, it's gestures that make the Christmas season magical."
Digicel Fiji encourages everyone to participate in the Christmas promo and embrace the spirit of giving, reminding us that, 'Anyone Can Be Santa' this festive season.
Additionally, Digicel Fiji will stage a toy drive at its stores across Fiji. The company is inviting you to be Santa and generously share the joy of the season. We're calling on kindness to donate new and unwrapped toys, creating moments of delight for children of all ages. These gifts will find their way to local charities that support children in need around the country. Let's join hands in spreading love and bringing smiles to those who could use a little extra magic this holiday season.
Digicel will also organise a special tree lighting ceremony in Suva, where every twinkle of lights ignites a spark of magic, inviting families to embrace the spirit of the season and create unforgettable memories for years to come. The event will feature special guest appearances, as well as live music, food, and games.
Digicel Fiji is ushering into the festive season giving customers who use QR pay for purchases a chance to win a share of $20,000 cash as part of the ongoing MyCash promotion. You also have the chance to double your joy and connect with your loved ones with an incredible buy one, get one free offer on selected mobile phones.
Additionally, for the duration of the promotion, weekly Sky Pacific subscriptions will be up for grabs and when you top up or pay bills with the MyCash app you receive 2GB of data free valid for 24 hours and a generous 3% cash back on your top up opt-in amount.
"Christmas is a family affair and everyone gets excited about giving and sharing love and kindness with one another. Digicel Fiji celebrates with our customers and the community. Each of us is Santa, able to share not only kindness but also care, support, love, joy and hope. This festive season, we stand with our community because Christmas is not just bigger, but better when we are together," added Farid.
Digicel Fiji's commitment to its customers and the people of Fiji is unwavering and we invite all members of the community to join us in celebrating this season of joy, unity and kindness.
Top of Form