MyCash UNELCO Your Power Bill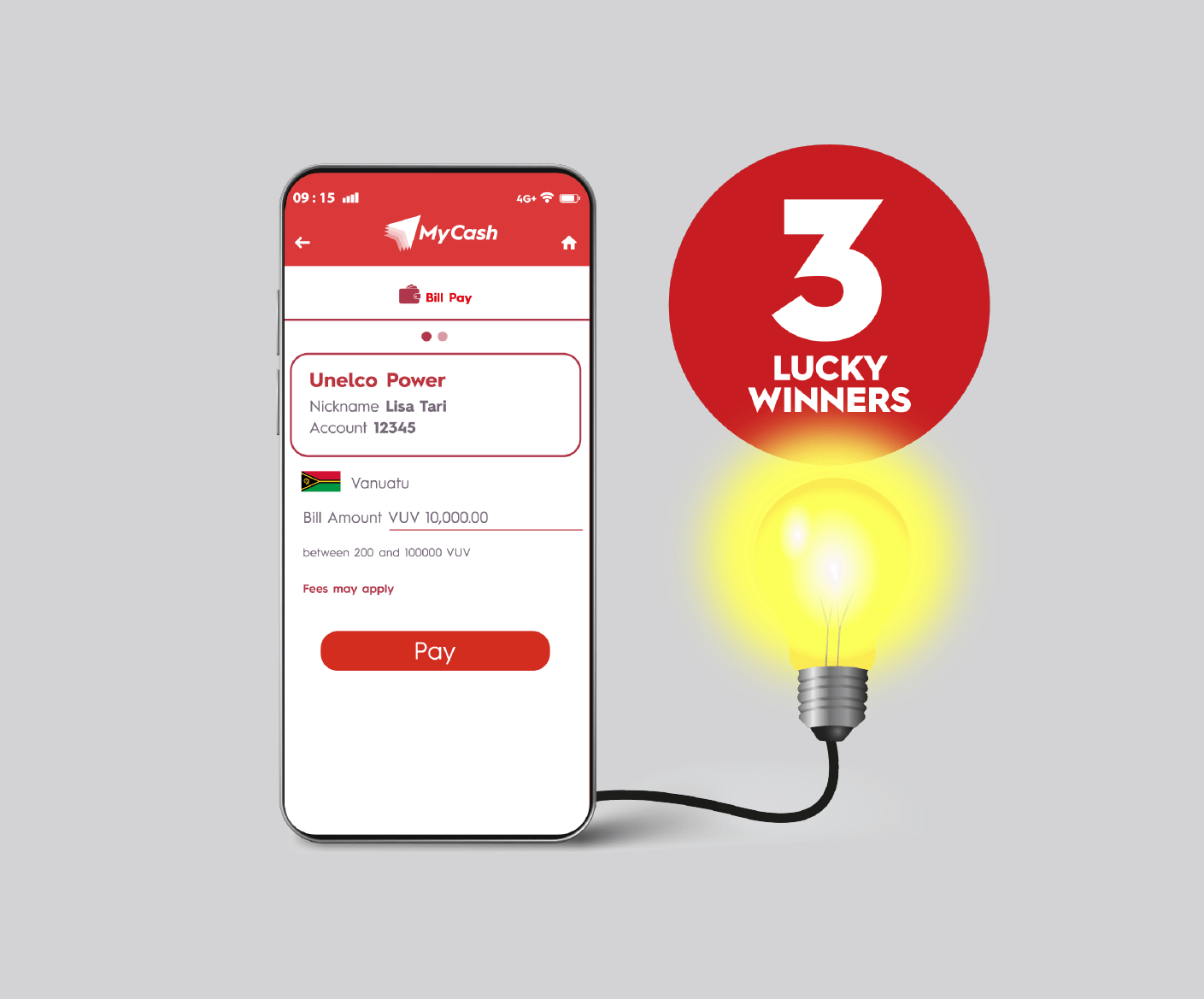 Promotion Details
Pem UNELCO Pawa bill blo yu wetem MyCash mobile wallet blo yu and you instantly go into the draw to win your money back on us! 📱👍

How to Enter! Hemi Isi mo simple nomo:
Login lo your MyCash and Pay your Unelco Power Bill using the app for a chance to WIN!
1 Laki Wina lo manis August to October bae hemi WINIM mani blo bill bakagen from Digicel!
I gat 3 Laki wina nomo lo promotion ia!
 Digicel has launched a new promotion for MyCash customers using the Bill Pay Service to pay

their UNELCO Electricity Bills:


1. What is the promotion?

Customers are advised to use the MyCash Bill Pay Service to pay their UNELCO Power Bill. By

doing so, they will be automatically entered into a draw at the end of the month, where they

could win the total amount of their Power bill back. This is a great opportunity for customers to

save money while paying their bills conveniently and securely.


2. When does the Promotion start and end?

The Promotion starts on August 10, 2023, and ends on November 10, 2023.

3. What is the prize?

Prize money of 30,000 each month will be awarded to each winner to pay back the amount of

his or her Power Bill during the duration of the Promotion. If the winner's Power bill is greater than

30,000VT, Digicel will only pay up to 30,000VT.


MONTH PRIZE

August 31st 30,000VT

September 30th 30,000VT

October 31st 30,000VT

TOTAL PRIZE 90,000VT


4. If my Power Bill exceeds the threshold amount and I win, will I still beat my money back?

As a monthly winner, if your bill exceeds 30,000 VT, you will receive a refund of 30,000 VT.

However, if your bill is less than 30,000 VT, Digicel will only pay for the amount due. You must pay any difference.


5. Who Can Participate in this Promotion?

This promotion is open to all Digicel prepaid and postpaid customers. Staff and affiliated

partners are not eligible to participate and cannot win prizes in any Digicel competition.


6. What do I need to know if I win?

a. If you win, Digicel will contact you by telephone

b. During the telephone call, our Digicel representative will advise you where and how to

Redeem your prize.

c. You will be required to provide government-issued identification.

d. You agree that if you are a winner, you will permit photographs of you to be taken and for

your image, likeness, and name (your "Likeness") to be used for public relations and

marketing purposes free of cost, including the publishing of your Likeness on social media,

mainstream media, the App, and other platforms that we may choose. If you refuse to do

so, you acknowledge that this will result in forfeiture of your right to claim the prize.


7. How do I pay my UNELCO Power Bill using the MyCash app?

a. Simply download either the MyCash app from the Google Play store (for Android users)

or Apple Store (for iPhone users) and register by following the steps.

b. If you already have the MyCash app, simply login to your app

c. Click on the "More" option on your home screen then "Bill Pay"

d. If it is the first time you are paying your UNELCO Power Bill via the app, you will have to

add it before making any transaction. Click on "Add Bill" and continue the process. If you

have paid your Power Bill through the MyCash app before, it will appear after clicking on

"Bill Pay"

** NEW USERS – You will be able to add a bill from the drop-down menu and assign

them a nickname or your account name and your account number so you can continue

making payments from your MyCash Wallet

e. After you add the biller you'll go back to the "Bill Pay" screen, click on the "Pay" button

next to UNELCO Power

f. Enter the amount you wish to pay and click "Pay"

g. Enter your 4-digit PIN and you will be able to see your transaction confirmation


8. If I do not have the MyCash app, can I still pay my UNELCO Power Bill using the USSD

*888#?

Yes, If you do not have access to a smartphone, you can dial *888# and follow the instructions to

pay your bill


9. In what manner is this offer being promoted?

- Social Media

- Website

- T2B

- Press

- Radio